I'm here to share with readers some of the unique dishes I've encountered during my online wanderings. The theme of this edition fits this time of the year: soup. In the last few years, I've come to really like eating a variety of soups, especially in the fall and winter months. There's something very comforting about soup, and I love the fact that you can make use of leftovers to come up with a quick and easy soup. As usual, I'll add my thoughts on each entry and then I'll give my verdict on whether or not I'd try the dish. In addition to my final verdict, I'm adding a numerical score (based on a 10-point scale) which reflects my excitement over each dish.
Ingredients:

3 tbsp vegetable oil

2 leeks, finely sliced

1 carrot, diced into 1 cm cubes

1 onion, finely chopped

1 potato, diced into 1 cm cubes

3 parsley sprigs, finely chopped

1 tsp ground cloves

1 bay leaf

1.5 liters vegetable broth

280g chestnut pureé

120 ml heavy cream

Salt and freshly ground black pepper, to taste

To serve:

100g pine nuts, toasted

Method:

In a large saucepot over medium heat, heat the vegetable oil. Add in the leeks, carrot, onion, and potato and sweat for 15 minutes to soften.

Add in the parsley, cloves and bay leaf and broth, bring to a boil. Reduce the heat and simmer, covered for 20 minutes. Add the chestnut puree and simmer, covered for 3 minutes. Remove from heat.

Using a hand blender, puree the soup until smooth.

Stir in the cream and season with salt and freshly ground black pepper, to taste. Reheat the soup over moderate heat, stirring occasionally.

Divide the soup among bowls and serve with toasted pine nuts.
To the best of my memory, I've never had chestnuts. I don't know if I'd like them whole or pureed, which means this soup starts off on an uncertain note for me. As I read this recipe, I initially thought I wouldn't like this soup bc I saw it called for cooked carrots, onions, and leeks, and generally speaking, I don't care for cooked veggies (there are exceptions). But then I noticed that everything is pureed, so I'm good! Of course that just left me slightly confuzzled, bc I have no idea how this soup will taste. I'm familiar with all the ingredients, but how they come together in this soup, and what the final product tastes like? I'm completely in the dark. I am intrigued though.
Verdict: I'd order a bowl of this soup at a restaurant.
Score: 8
****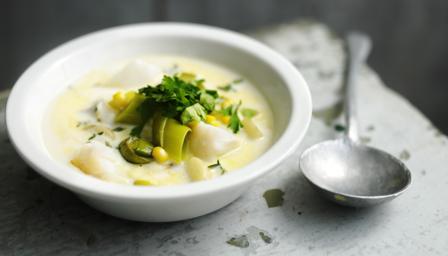 Ingredients

1 good slice butter

3-4 medium leeks, roughly sliced

1 small handful tender fresh thyme sprigs

1 corn on the cob

a couple of handfuls of new potatoes, cut into bite-sized chunks

a couple of undyed smoked haddock fillets

milk, enough to cover the fish

2-3 fresh bay leaves

a sprinkling of black peppercorns

a good handful fresh flatleaf parsley, roughly chopped
Preparation method

In a deep pan, heat the butter until melted, add the leeks with the thyme and cover with a circle of greaseproof paper big enough to tuck down a little over the leeks. Cover with a lid so no steam escapes, and cook gently for about ten minutes. Run a sharp knife down the sides of the corn to remove the kernels and add them to the pot with the potatoes, which will add some body to the chowder. Replace the greaseproof paper and the lid and continue to cook for a further ten minutes.
Meanwhile, place the smoked haddock fillets in another shallow pan and pour in the milk, enough to just cover the fish. Add a bay leaf or two and a sprinkling of peppercorns. Bring to a gentle simmer and cook the fish for eight minutes or so, being careful not to overcook it.

Lift the lid of the pan containing the leeks and remove the greaseproof paper, and ladle in the poaching milk of the fish without the bay leaves or peppercorns, followed by large chunks of haddock, removing any bones as you go. Bring to a simmer and finish with a good sprinkling of chopped parsley before taking the pan to the table for the food to be served into bowls.
I have some minor reservations regarding this soup. To the best of my knowledge, I've never tried haddock so that provides a small bit of uncertainty. That said, I've yet to find a fish I don't like. OTOH, I'm not fond of smoked fish (although I realize its part of soup, so I'm certain it will taste different than if I were to eat it alone). I do like leeks and corn on the cob (or off it, in this case). I'm not a huge fan of creamy soups. I do like potatoes in pretty much anything. This soup is a perfect case of 'like this, don't like that'. However. However. Something about the look of this soup, combined with the ingredients (and I can't forget the parsley, peppercorns, and the thyme, all of which I quite like) screams 'Try Me'.
Verdict: Despite some minor reservations, I'd try this soup. I have to. It's screaming 'Try Me'.
Score: 9
* * * *
Black bean soup? I'm sold. I really don't need to see the recipe, bc they'd have to seriously fuck it up to make bad black bean soup. They would have to add peas or sauerkraut or some other kind of nasty crap for me to not eat it. I like black beans. I like them as sides. I like them as a dip. I like them as a bur…wait, I haven't had a black bean burger before, but I've heard they're good and I'd be willing to try one. In any case, you can probably tell by now that I like black beans quite a lot.
1 medium onion, diced (1 ½ cups)
1 small red bell pepper, diced (1 cup)
1 small green bell pepper, diced (1 cup)
6 cloves garlic, peeled and sliced
6 cups cooked black beans, divided
3 medium potatoes, peeled and diced (2 ½ cups)
2 Tbs. white wine vinegar
1 Tbs. ground cumin
1 Tbs. fresh oregano leaves
1 bay leaf
½ tsp. salt
Diced red onion and green bell pepper for garnish
1. Sauté onion, bell peppers, and garlic in saucepan with a little water or vegetable broth over medium heat 2 to 3 minutes, or until vegetables soften. Transfer to blender, and purée until smooth. Add 3 cups beans and 6 to 7 cups water; purée until mixture is consistency of thick soup.

2. Return mixture to saucepan, and add remaining beans, potatoes, vinegar, cumin, oregano, bay leaf, and salt. Bring to a simmer. Reduce heat to medium-low, and simmer, covered, 20 minutes, or until potatoes are soft. Remove bay leaf. Garnish each serving with diced red onion and green bell pepper.
Red and green bell peppers are not my favorite. I like the flavors they impart, but I don't care to actually eat them. In this soup, however, the peppers are chopped finely (and if I were going to fix this soup, the peppers would be minced *very* finely) and then sauteed, so I am confident I won't mind their presence. Especially given the presence of those delightful frijoles negroes, not to mention the potatoes and the onions.
Verdict: Oh hell yeah, I'd eat this.
Score: 9

Oh boy. If you thought black bean soup was my favorite soup, I can understand. You'd be wrong though. My favorite is potato soup. Typically loaded potato soup is my go to comfort soup (where some people like chicken noodle, which isn't bad), but really, I like potato soup no matter how it is prepare. I'm sure someone, somewhere could prepare a potato soup I wouldn't like, but by and large, I've liked all versions I've tried and this recipe looks to be no exception. It's relatively plain (the limited number of ingredients should makeit easier for people to prepare on their own), but that's not a bad thing. Here's the recipe:
Peel and slice the potatoes.
Put potatoes into a soup pot with water, onions, and bay leaf.
Simmer covered for 45 minutes.
Puree soup in batches.
Add half and half, salt, and pepper. Also add smoked sausage if using.
Cook for 15 minutes on low just until heated thoroughly without scalding the half and half.
Add butter and serve.
Verdict: I'd eat the hell out of this!
Score: 10
****
The final soup today is a variation of another one of my favorite soups: lentil soup. This version is Lebanese-Style Red Lentil Soup.
Ingredients

6 cups chicken stock
1 pound red lentils
3 tablespoons olive oil
1 tablespoon minced garlic
1 large onion, chopped
1 tablespoon ground cumin
1/2 teaspoon cayenne pepper
1/2 cup chopped cilantro
3/4 cup fresh lemon juice

Directions

1. Bring chicken stock and lentils to a boil in a large saucepan over high heat, then reduce heat to medium-low, cover, and simmer for 20 minutes.

2. Meanwhile, heat olive oil in a skillet over medium heat. Stir in garlic and onion, and cook until the onion has softened and turned translucent, about 3 minutes.

3. Stir onions into the lentils and season with cumin and cayenne. Continue simmering until the lentils are tender, about 10 minutes.

4. Carefully puree the soup in a standing blender, or with a stick blender until smooth. Stir in cilantro and lemon juice before serving.
I like this soup…and I don't like it. All the ingredients are wonderful. No qualms there. But I like my lentil soup with whole lentils, not pureed. That's not to say I wouldn't eat this-I would. It's just not my preferred version of the soup.
Verdict: I'd eat this (though with a bit less enthusiasm than if the lentils were whole)
Score: 8
Hmm, now I want some soup.
And I wonder if I could combine some of the above soups together. Lentil, black bean, potato, chestnut, and haddock soup? Hmmm.