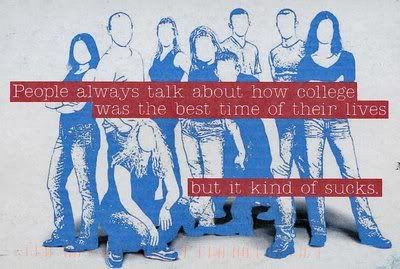 I wish I could spin you the story everyone wants to hear.
That story has a whole cast of predictable characters, and many trunks' worth of familiar props. The friends, the neat dorm rooms, the beer, the photo collages, the inside jokes, the cute frat guys, the walks by the lake, the hot chocolate, the study sessions, the mentoring professors, the sorority mixers, the coffee dates, the giggly all-nighters, the risque one-night-stands and the whispered confessions to friends in class the next day.
Sound familiar? That's the College Story. You've seen it in every glossy brochure, TV show, Seventeen magazine article, and back-to-school commercial.
But that's not my story. It never will be. Because the kind of person I am doesn't get to live that story.
Halfway through my college career, it's time to admit this to myself.
My story? Sure, it has some bright moments in it. Most stories do, and mine hasn't been that awful. But then there's all the stuff nobody wants me to talk about–the weather, the loneliness, the way guys at Northwestern treat me (to be precise, like a thing), the rich, preppy students that I'll never resemble, the hours spent laboring over essays that professors barely even read (and then unceremoniously slap a B on without further explanation), the expectation to be a walking, talking, drinking/fucking/studying machine, the not-so-subtle bragging NU teaches us to perform, the bottles of anti-depressants lined up on my shelf, the many nights I spent considering transferring, asking for a quarter off, dropping out of college, or dropping out of life.
I played with my little sister today. I do that every day when I'm home, but today it was different because I was acutely aware of the fact that I'm leaving again in five days. I hugged her and my heart broke all over again. I hate that I'm not here to see her and my brother grow up. I hate that nobody at Northwestern loves me the way these two do. I hate that my little brother took one of my blankets to sleep with because he misses me while I'm at school. It all feels so wrong to me.
I'll feel better once I'm actually there, I know that. Despite what it may look like, making the best of things is a skill of mine. Once I'm there, it'll be easier to make myself forget the loving family I've left back in Ohio and to pretend that home isn't where I'd always rather be. Sometimes I'm even able to get myself to believe that I somehow matter at this huge institution of higher learning and that it, or at the very least, the lives of some of the other people in it, would be noticeably different if I had never existed.
The truth is that I'm paying $200,000 and a lot of my own sanity for a stupid piece of paper saying that I'm qualified to go get a PhD and actually learn something relevant to my life, because all I've learned these past two years is how to act smarter, richer, and more well-adjusted than I actually am. Call me an idealist, but I hoped that college would be more than this.
I'm compelled to apologize for this. To apologize for hating college, because it goes against everything our culture dictates that I do. I'm supposed to love it.
Well, I'm sorry. I wish I could tell you that I do.