You heard me. It's obnoxious. (Not just because of the inherent cissexism/heterosexism.)
If you're not familiar with what I'm referring to, it's a relatively common joke that (in a cishet relationship) women take up most of the bed while the dudes are relegated to a small sliver at the edge.
I couldn't find exactly the one that ignited this train of thought for me, since it was someone else's random Facebook post from months ago, but here are a couple examples of what I mean: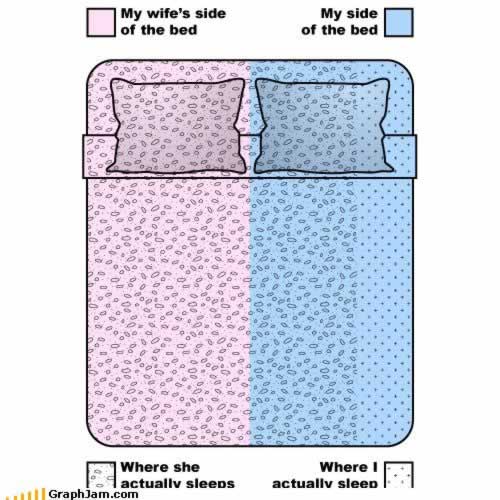 This is such a common/popular joke that you can buy bedding based on it:
This irritates me because there are several obvious explanations for this phenomenon. And because I'm the smaller, estrogen-filled partner in my particular arrangement.
Heavy-ness
Generally speaking, men are heavier than women. If you have a box spring mattress (seems most people do) and put a heavy thing on it, the whole bed bows toward that point. Less-heavy things on the bed will roll toward the depression, because gravity. Being the smaller partner in this situation is actually really uncomfortable because it's difficult to find a good way to sleep on your side without inevitably leaning/rolling toward the heavy person. It takes conscious effort to prevent yourself from ending up on their side of the bed, and obviously that's not possible while you're unconscious.
The solution is that everybody should be using memory foam mattresses. My partner and I bought a memory foam pillow-top thing to put over our spring mattress (for unrelated reasons) and it pretty much eliminates this problem.
Warm-ness
People who are full of testosterone tend to be warmer than people who are full of estrogen. Body temperature declines over the course of the night, so obviously you're going to unconsciously gravitate toward the warm thing. Especially if gravity is literally pulling you toward them.
Some measure of affection
Chances are, if you're sleeping in the same bed with someone, you like them to some degree and want to be close to them. Men bitching about how their partners end up hogging the bed strikes me as somewhat… douchey. It's almost like a "fuck you" to the partners who like to cuddle. As well as being totally ignorant of the above points.
Of course, there are people who hog the bed. Some of them are probably women. This complaint pops up often enough in this specific dynamic to convince me that it's more likely that the above reasons apply than an overwhelming number of women are bed hogs.
Just another example of a problem created by men being blamed on women. Fucking patriarchy. :p