You asked for it.
You demanded it.
Now you're getting it.
TWILIGHT. IS. BACK.
I'm not a fan of Twilight. I haven't read the books, nor do I have any intention of doing so. If I want to be tortured, I'll have someone pull out my finger- and toe- nails with pliers (and no anesthetic). No need to read Stephanie Meyer's stalker laden, anti-abortion, pro-abusive relationship, misogynistic faux-romance (fauxmance?) by way of Mormon porn (plus I've seen several of the movies, which contain the same thematic elements). But if you're one of the countless millions of people drawn to that tripe (can you tell how much disdain I hold for the Twilight?), you may like this (hat tip to The Mary Sue). Deadline has the details:
Five features wasn't enough. Lionsgate said today that it is partnering with author Stephenie Meyer, Facebook, Women in Film and Tongal to launch a social media campaign to develop and produce short films by female filmmakers based on the characters in The Twilight Saga. The venture, called The Storytellers – New Creative Voices of The Twilight Saga, will include films based on a broad spectrum of characters from the Twilight universe, with guidance provided by Meyer's encyclopedic The Twilight Saga: Official Illustrated Guide. Entries will be judged by Meyer, Kristen Stewart, Kate Winslet, Octavia Spencer, Jennifer Lee, Catherine Hardwicke, Julie Bowen and Women In Film President Cathy Schulman.

The five winning shorts will be financed through production advances, and fans will help select a grand prize-winning filmmaker who will receive a cash prize and career opportunities. "The female voice is something that has become more and more important to me as I've worked in the film industry," said Meyer. "I'm honored to be working with Women In Film, Lionsgate, and Facebook on a project dedicated to giving more women a chance to be heard creatively."
The only good thing about this is that it will highlight female directors, of which Hollywood doesn't have enough (though apparently, Indie films have a better representation of female directors, which kinda puts the lie to any claims that there are fewer female directors because women don't want to direct movies).
* * * *
The truth is out there.
And we already know what it is. There is a gender based pay disparity in Hollywood (just like the rest of the US). In an interview with Red magazine, Gillian Anderson of X-Files fame talks about how much less she was paid than David Duchovny (hat tip to The Mary Sue):
It seems incredible now to think Anderson was just 24 when she was offered the part of Scully on The X Files, quickly establishing herself as an international star – although Duchovny was originally paid significantly more. It was three years before Anderson made a stand and was finally awarded the same salary.

'At the beginning, the pay disparity was massive. But that happens all the time in Hollywood. It's, "Do this for me, I'll get you a job." All the stuff in the papers today about people in entertainment who have abused their position…'

Anderson is clearly not one of those women who might shy away from referring to herself as a feminist, and she's on a roll: 'It's built into our society. It's easy to miss and it's easy to get used to it. There are things that are intolerable in today's world, in terms of the perception of women. Whether they're vamps or vixens… the expectation that, if a woman is wearing a short skirt, she's "asking for it".'
Sexism.
It's everywhere.
* * * *
It's even on Jeopardy!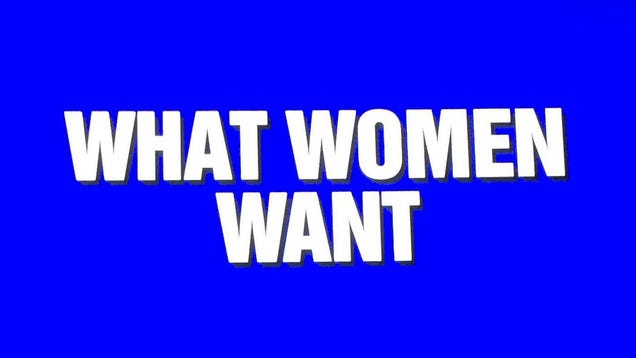 Monday night's Jeopardy! had a "What Women Want" category, but instead of featuring things women actually want—paid maternity leave, to finally adopt the ERA—it had herbal tea and good-fitting jeans. (It wasn't even a celebrity edition.)
I like some of the Twitter responses to Jeopardy's sexism. Instead of this: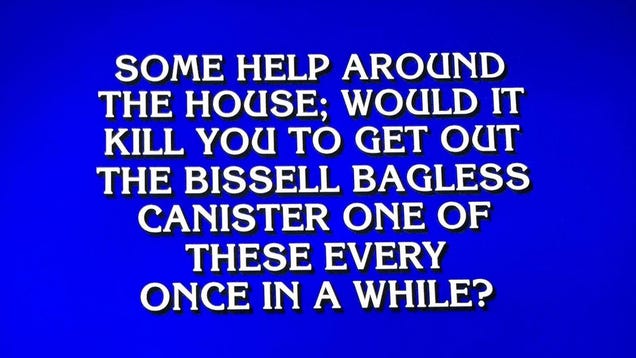 Women want this:
#whatwomenwant What is equal pay? What is the right to make my own health decisions? What is treated like a human? @Jeopardy @SophiaBush

— Andrea Davis (@MissAndreaDavis) September 30, 2014
Rather than this: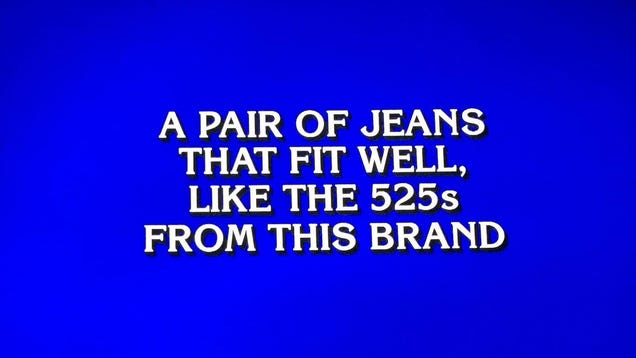 Women want this:
The #whatwomenwant Jeopardy category totally missed What is Listen To My Problems Don't Solve Them For Me & What is A Different Last Name?

— Maria (@CopyMaria) September 30, 2014
For a show that is based around knowledge, they have much to learn.