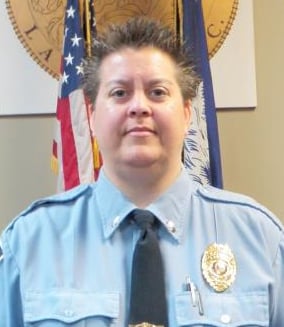 Grrr…
It's 2014. After 23 years serving on the Latta, South Carolina Police Department, Crystal Moore found herself fired from her job. She had managed to work her way up to police chief and was the first woman police chief of Latta. During her time as Chief of Latta Police, she received numerous compliments and by all indications, performed her duties quite well. None of that mattered in the eyes of the CIty Council. Nope. She was fired for being a lesbian.
Earlier this year, Jameka Evans was forced to leave her job as a security guard at Georgia Regional Hospital bc, in addition to her refusal to dress in manner that conformed with stereotypical gender roles, she is a lesbian. She tried to sue her former employer. Both a lower court and the U.S. Eleventh Circuit Court of Appeals ruled against her.
More recently, Hollis Bulleit, daughter of Tom Bulleit–founder of Bulleit Bourbon–opened up about the circumstances that led to her departure from Diageo, one of the largest alcoholic beverage producers in the world, and owner of Bulleit Bourbon. In a series of Facebook posts, Hollis Bulleit, who is far from a stranger in the alcoholic beverage industry, revealed that she was pushed out of her job bc, drumroll…she's gay (that's only the tip of the iceberg when it comes to the homophobia she experienced over the 10 years since she came out to her family).
If you're queer and you live in the United States, your job is not as secure as you think (here are 5 more people fired for their sexuality). Hell, not just your job–your home is not as secure as you think. Neither is your ability to partake of public services like restaurants or hotels. As of 2017, only 21 states (and D.C.) have statewide non-discrimination protections in place for LGB people (of that number, only 19 offer protections based on sexuality and gender identity). Discrimination based on sexual orientation and gender identity is very real and collectively, queer people suffer bc of that.
The discrimination we face begins at a young age. The social stigma faced by queer youth is enormous. Familial rejection. Rejection by religious organizations. Bullying in schools. Homelessness. Alone, any one of those challenges can be damn near insurmountable for many queer youth, but to have to face more than one? It can seem virtually impossible. And the stress such discrimination places upon queer youth can adversely affect their mental and physical health.
To my surprise (and probably many readers), we are not alone in our struggles. The stress we face. The oppression we endure. The discrimination dealt with. It's not just we who have problems. There's one group that seems to think they suffer as much as we do…that they face discrimination on par with the shit we have to put up with. Watch the following video, Not Alone (if you can stomach it without throwing anything at your computer or wailing so loudly that you shatter your screen and torment your pets), and see for yourself just how rough these people have it: