The above image is an alternate version of the inscription on Mjolnir, the mystic hammer wielded by Marvel Comics' Thor, the Asgardian god of thunder. Traditionally, Thor has been a man, but recent events in the godly corner of the Marvel Universe have seen a woman-Jane Foster-wielding the hammer of the gods. That's why I figured to go with a version of the inscription with is inclusive of women and men rather than one or the other. Apparently we may need to tweak it a little further (we can just replace he or she with they), as this little guy is now a hammer wielder too:
When redditor Crux1836 asked his son what he wanted for his fourth birthday, the boy replied, "A Thor hammer … a real Thor hammer!" And so, like any dutiful dad, Crux1836 headed to the forge, because doesn't every father have a forge and anvil in his workshop?

As he explains on reddit, he started with a piece of steel square tubing, because it needed to be "something large enough to represent the hammer, but light enough that a 4 year-old could hold it." He walks through the rest of the process, ending with a fantastic replica of Mjolnir that's small enough — and light enough — for the birthday boy, but still mighty enough to take on Frost Giants.
This is absolutely beyond cool. Now I want one. And Wonder Woman's lasso. And a Green Lantern ring. And a silver surfboard. And whoa, there's a lot of weapons and tools I want. I wonder which comic book tools and weapons Ariell Johnson would want a replica of…
* * * *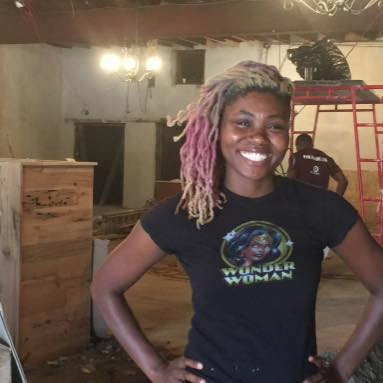 Pop Quiz! One (and only one) of the following statements is true:
1. The woman above recently opened a carpentry business.
2. The woman in the picture above is one of the few black women who owns a flooring business.
3. The picture above shows the first black woman on the East Coast to own a comic book store.
If you answered #3, congratulations-you get a No-Prize! As a child, comic book fan Ariell Johnson became intrigued by Ororo Munroe, aka Storm of the X-Men. Seeing the character on the 90s animated X-Men tv series, she was drawn to her bc she was a badass. As the years went by Johnson became more and more interested in reading about Storm and dove into the world of comic books. Now, as an adult, Johnson is the first African-American woman to own a comic book store along the East Coast. Her store, Amalgam Comics and Coffeehouse offers customers more than just comic books (the name probably gave that away):
Now as the owner of Amalgam Comics & Coffeehouse in Philadelphia, Johnson has become the first black woman to own a comic book shop on the East Coast. Storm is still her favorite comic book character to this day.

"I was hyper aware that comic books are dominated usually by white men, but when I was creating the store, I wasn't really thinking about myself [or] about being first," Johnson said. "I was more so thinking about wanting to create a space that celebrated diversity."

The idea for Amalgam was birthed 12 years ago, when Crimson Moon, Johnson's favorite coffee shop to sit down and read her comic books, closed. Johnson said she never found another cafe quite like it, so it pushed her to create her own.

From the furniture to the decor, Johnson was very intentional about crafting this space. In fact, Johnson says she sat in every chair in the store before purchasing it to ensure comfort. Johnson insists Amalgam is a place for all people.

"I hope people feel like this is a store that was created with them in mind from beginning to end," she said. "It's a store that they can claim as their own."

Bridging coffee and comics, Amalgam is not only committed to building community, but also diversity and inclusion.

"To not see yourself ever represented as the hero or the protagonist does start wear on your self esteem and your self worth because it's like you're not valued enough to learn more about or write a story about," Johnson said. "Diversity is important because we live in a diverse world and the media that we consume should reflect the reality of the world. It's healthy to see other people represented because it helps you relate to people."
From the sound of things, I think Johnson and I could spend a lot of time discussing comic books, diversity, and the importance of inclusivity in the medium we both love. Here's a talk she gave about diversity and representation in comics at Ignite Philly 15:
(we could also talk about 80s cartoons that we both grew up with)
(and she called out Buffy and Faith!)
(looks like she isn't just interested in diversity along one axis, but along multiple ones)
(I wonder if she's a Star Wars fan. If so, the next bit of news might be disappointing to her)
****
Star Wars: The Force Awakens is like the Juggernaut. Once it got going nothing could stop it. The movie shattered record after record and is one of the highest grossing movies of all time. Millions of fans probably exited the movie, excited to know that Episode VIII would be out in May 2017. Unfortunately, the date has been pushed back to December, 2017. Fans of Poe, Rey, and Finn probably let out a collective NOOOOOOOOOOO upon hearing that news:
Until The Force Awakens, Star Wars films were always summertime releases, with each of the original trilogy and the prequel movies hitting theaters in May. But now, it seems Star Wars is becoming a holiday phenomenon. In addition to Force Awakens – which was shifted from May to December because of script delays – and Episode VIII, anthology film Rogue One, directed by Gareth Edwards, is set to arrive on Dec. 16 of this year.

There have been rumors of last-minute script changes to Episode VIII too, which is being written and directed by Rian Johnson (Brick, Looper), but that's not uncommon for any major movie as it heads before the cameras. In a statement, Lucasfilm said the date shift was aimed at following the lead of The Force Awakens, which now holds the record for domestic box office at $859 million and is No. 3 on the worldwide chart with $1.9 billion – behind Titanic in second place with $2.2 billion and Avatar in the No. 1 slot with $2.8 billion.
I'm too lazy to dig it up, but I read (and it may have been just a rumor) that one of the reasons for pushing the movie back was because the changes to the script included beefing up the roles of Poe, Finn, and Rey. If true, it wouldn't surprise me, especially in the case of Finn and Rey. After all, for the longest time, Hollywood hasn't cared about diversifying leading roles. Hollywood has traditionally not cared about catering to People of Color, women, or LGBT audiences, choosing instead to aim movies for the white, heterosexual, cisgender men who they think are their primary viewers. But The Force Awakens may have served as a wake-up call for them. Perhaps now they'll begin to realize that they can appeal to other groups and still make a metric fuckton of money (and they don't have to stop appealing to the main demographic that they've been biased in favor of for nearly 100 years). And I have the perfect character non-white, non-male, non-christian character for Hollywood to create a series around: Ms. Marvel!
****
6 Marvel characters who could thrive on Netflix
The title is a bit of a misnomer, as it's 5 characters and one group of characters, but this article posits some interesting choices for future Netflix series. Of them, one of the most popular properties, and one I think that would delight viewers around the world is Kamala Khan: Ms. Marvel!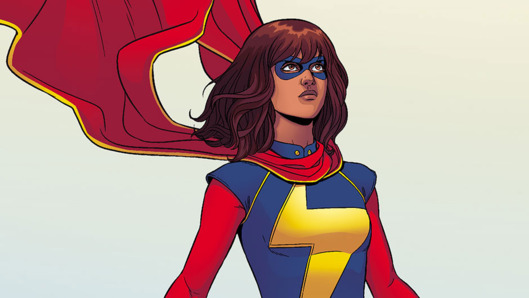 A Ms. Marvel tv show would definitely be something that would appeal to young girls, women, and Muslims in particular. As Ariell Johnson above illustrated, young people are hungry to see people like themselves in the media they consume. And they don't want to (nor do they deserve to) see stereotypes. They need and deserve to see diverse representations of themselves. And given how poorly Muslims are treated in our culture, and how much girls are overlooked as a target audience for movies and tv, this could be a good move and serve to give young girls and Muslims (and young Muslim girls) something they are quite thirsty for. And something that we don't see much of in the U.S.-a Muslim presented not just in a good light, but as a hero. Muslims and girls are not the only groups that enjoy the adventures of Kamala. Her character appeals to a wide variety of readers and I think such a show-done well (though to be honest, given the hunger of many groups to see a character like them on screen, the show could be average and probably still be liked)-would attract a diverse array of viewers (though probably not conservatives and racists-but who wants to court them anyway).
She dons a sensible, simple costume and sets out to defend her burg. What sets Kamala's stories apart is how small-scale they are. Much like the protagonists of Jessica Jones and Daredevil, Kamala puts her roots firmly in her city, seeking to defend it rather than jet off to exotic lands to punch cosmic entities. She's simply a funny, awkward teen who doesn't have access to money or advanced technology.

Ms. Marvel is a consistent seller for Marvel, especially in collected editions that get sold in mainstream bookstores, so I'm certain the higher-ups know there's potential demand outside hard-core comics geekdom. It's only a matter of time before we see more of Kamala, and they'd be wise to put her in a grounded, urban setting like the other Netflix series. They'd just have to make sure she doesn't get too grim and gritty. She's as optimistic and hopeful as Daredevil is tortured and angry.
Click the link to find out which other characters the author thinks could work on Netflix (one of them has already had a tv series, and almost anything would be better than that dreck).
****
Last up is another story about diversity on the small screen and involves a character that may appeal to young girls of color.
Vixen is a longtime DC Comics character with a mystical Tantu Totem that grants her the abilities of any creature in the animal kingdom. Were it not for a severe economic downturn at DC Comics in the 1970s, Vixen would have been the first African-American female character to have her own title. Vixen has been a model, a business owner, and a member of both the Suicide Squad and the Justice League. Having another black female on the small screen-and one in a different role than most black women find themselves-on the tv will widen the portrayals of African-American women and I have no doubt some younger viewers will appreciate seeing a superhero on the small screen who looks like them. That's the power of diversity and inclusivity.