It's time once again for some eclectic eats. Appetizers are the theme this week. Before I dive into the appetizing goodness I've found, can I just take a minute to talk about how much I love edamame? I first learned of the soybean in a pod several years ago at a previous job. It was a seafood restaurant that also served sushi. Edamame was one of the more popular side dishes. The first time I saw someone consuming them, I thought they looked really plain and couldn't figure out why the person was raving about how good they were. I mean they're like hot green beans on steroids sprinkled with sea salt. What's so awesome about that? After I tried them, I came to understand. For me, they're almost as addictive as popcorn, but much better for you (provided you don't overdo it on the salt). And I say that as a popcorn lover. They're a perfect snack on their own, but you can also use them as ingredients for a salad (something else I've done more than a few times).
Ok, with that out of the way-let's get down to the eclectic eats! What unconventional dishes will I like? What bizarre dishes get the thumbs down? Which dishes elicit an ambivalent shoulder shrug? Read on! On to the appetizers!
As established above, I may kinda sorta like edamame. In fact, I like it so much that in the middle of composing the intro paragraph, I began craving some, so I took an hour break to walk to Walmart and buy some. It was so good. 4 minutes in the microwave, a little salt, pepper, and red pepper flakes on top and one Emeril Lagasse BAM! later and I had a delightful snack to munch on. The first recipe I found for this weeks EE involves edamame, but not in the form I am accustomed to.
Here's the recipe:
2 cups fully cooked, shelled edamame (green soybeans)*

1/4 cup chopped fresh basil

2 tablespoons lemon juice

1/2 teaspoon freshly ground pepper
1. Preheat oven to 425°. Cut off pointed end of garlic; place garlic on a piece of aluminum foil, and drizzle with 1 Tbsp. olive oil. Fold foil to seal. Bake 30 minutes; let cool 5 minutes. Squeeze pulp from garlic cloves into a bowl.

2. Process edamame in a food processor 30 seconds or until smooth, stopping to scrape down sides. Add roasted garlic, ricotta, basil, and lemon juice; pulse 2 to 3 times or until blended.

3. With processor running, pour 1/4 cup oil through food chute in a slow, steady stream, processing until smooth. Stir in salt and pepper. Serve with assorted fresh vegetables.
I'm not fully sold on this. One of the reasons I like edamame is the texture and as well as the experience of eating it. You pop one end of the pod into your mouth (remember the pod is covered in whatever seasoning you choose) and pinch open one end with your teeth and suck out the soybeans. That's a completely different thing than this appetizer. It sounds like the taste is going to still be there (maybe kicked up a notch or two with the addition of the garlic, and that's not a bad thing-garlic rocks), but I suspect I wouldn't enjoy this as much as eating the soybeans in the traditional manner. Incidentally, while the above recipe uses vegetables as the dipping agent, I wouldn't go that route. I'd use some type of crackers. I'm thinking pita chips or Wheat Things-something along those lines.
Verdict: While I like edamame, this is a significant departure from my preferred method of consuming them. I suspect I may enjoy this appetizer, but I'm not wholly certain of that. I'd definitely try it though.
Score: 7.
BTW, I had no idea how versatile edamame was until I began searching around for fun appetizers for this post. There is a really cool recipe for Baked Parmesan Edamame Bites here (I wanted to feature the appetizer as an entry in this post, but the authors' images and content are copyright protected).
****
Over at BBC, Jenny White has a recipe for CHEESE STRAWS: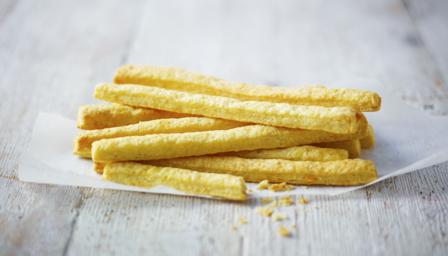 Preparation method

Sift the flour and a pinch of salt into a bowl. Using your fingertips, rub in the butter until all the lumps are gone and the texture is like fine breadcrumbs. Stir in the cheese, mustard powder, cayenne, and egg yolks. Add 4-5 tablespoons of cold water and mix to a firm dough. Wrap in cling film and chill in the fridge for 30 minutes.
Preheat the oven to 190C/375F/Gas 5. Line a baking sheet with baking parchment. Roll out the dough to a square, roughly the thickness of a £2 coin. Cut the square in half, then cut each half into 1cm/½in strips. Transfer carefully onto the lined baking sheet and bake for 10-15 minutes, until crisp, then leave to cool on the tray.
With a prep time of 30 minutes, and a cook time between 10 and 30 minutes, this starter is relatively quick. It sounds really tasty (though I wonder why the eggs are free range-that can't honestly affect the flavor, can it?). I'm wondering if a sharp cheddar could be used. Actually, I suppose any cheese I like can be used if I'm the one cooking and eating it. Ha! I have all the power! My only…issue is that it needs more pizzazz and some type of dipping sauce. By pizzazz, I mean it needs a spark of color. Perhaps right after they come out of the over, while still hot, they get topped with parsley or thyme. Or…hmm…I wonder how well scallions would mix with this dish? If some diced scallions were added into the mix during the first part of the prep, they might give the cheese straws that spark of color. As for a dipping sauce, now that? I'm not sure of. Oh, they're probably great on their own, but something like this is screaming for a sauce. Of course since I live in NW Florida, which is a subsidiary of Alabama (no joke, they call this area 'Lower Alabama'), I *could* use Ranch dressing, but I only like that with certain items (like the plate of raw carrots I had a few hours ago).
Verdict: I hope I can make this one day. It sounds good and with a little tweaking, I think it could be Grrrrrrrrreat!
Score: 9
****
Causa Rellena is a layered dish that can be eaten as a starter or light meal. Typically served cold (though I can imagine some variations could be made that are hot), this recipe calls for chicken salad (tuna salad is often substituted) atop yellow potatoes on a bed of lettuce and topped with black olives. This dish doesn't appeal to me much. I don't like tuna or chicken salad-at least as I've had them prepared. I don't care for mayo *at all*. And I've never cared for olives (which sucks, bc I really *want* to like blue cheese stuffed olives with my Bloody Mary's). Here's the recipe for the above version, for those interested:
Ingredients:

2 pounds of yellow potatoes

1 cup minced Aji Amarillo Chiles

1 lemon

1 teaspoon salt

1 large cooked skinless chicken breast

1 small chopped onion

1 cup light or fat free mayonnaise

Lettuce leaves

1/4 cup black olives

Directions:
Peel, cook and mash the potatoes.

Mix the potatoes with the Chiles, salt and juice from half a lemon.

Knead until it forms a well mixed paste. If the potatoes don't stick together well, add a trickle of oil and continue kneading until it sticks.

In a separate container, season the onion with salt and juice from half a lemon.

Then shred the chicken and mix it with half the mayonnaise.

Separate the potato and chili mixture into portions and add the chicken on top of each portion.

Place the Causa Rellena on a lettuce leaf and top with the remaining mayonnaise, olives and parsley
Verdict: This would be a dish I'd try if someone else prepared it (or bought in a restaurant and offered to me). I wouldn't make this on my own or buy it though.
Score: While I might enjoy a bite or two of this (I can just take off the olives), there's not enough to this dish that I find appealing. 4
****
Mmmm. Risotto. Nom. Nom. That's a good way to appeal to me. I first tried risotto several years ago and boy oh boy, I thought it was so tasty. Since then, I've prepared it at home a few times and found it to be a great side dish for everything from seafood to poultry to beef. I've never had it in this crab cake form, but visually, it looks good. However. There is a but. I don't like to eat tomatoes. I like their flavor, but not their texture. When consuming anything with tomatoes, I need them to be pureed, or only slightly chunky. So if I were to try this dish, I wouldn't even touch the compote. What's the recipe? Here you go:
Ingredients:

3 cups day-old risotto (see Cook's Notes)
2 eggs
1 ½ cups Panko bread crumbs
3 tablespoons olive oil

Directions:

Place eggs in a small bowl. Lightly beat with a fork. Set aside.

Spread Panko in a different bowl. Set aside next to beaten eggs.

Form balls of risotto using an ice-cream scoop or a large spoon. Pat balls into patties of approximately ¾ -inch of thickness. Dip risotto patty into egg; then coat both sides into the panko. Set aside in a large plate. Repeat process for remaining risotto.

Heat olive oil in a large skillet over medium-high heat, until shimmering. Place patties in the hot oil and cook, turning once, until golden brown, 3 to 4 minutes per side. Continue cooking in batches, until all cakes are done. Add more olive oil to skillet, if necessary. Serve immediately, topped with Tomato Compote (recipe below).

Tomato Compote

Makes 1 ¾ cups

Ingredients:

3 tablespoons extra virgin olive oil
1 small onion, finely diced
3 garlic cloves, minced
Zest of 1 orange
1 pint cherry tomatoes (see Cook's Notes)
3 tablespoons sugar
Salt and freshly ground black pepper

Directions:

In a medium sauce pan, heat olive oil over medium-high heat. Add onions and cook, stirring occasionally, until soft; 3 minutes. Stir in garlic and orange zest; cook until fragrant, about one minute. Add tomatoes and cook, stirring occasionally, until they start to swell and burst open a bit, about 5 minutes. Gently stir in sugar and cook for an additional minute. Season with salt and pepper. Serve warm or at room temperature.
Verdict: Much of this dish appeals to me. Unfortunately, it's clear the risotto cakes were designed to be eaten with the compote, bc they don't look to have a lot of flavor on their own. Given that I wouldn't eat the compote, I don't imagine the cakes on their own would really wow me. I'd eat this, but I suspect it would just be ok.
Score: 5
****
Hmmm, I don't know about this. Even though I know salty and sweet can often work well together, I can't overcome this hesitation on my part to question any such dishes. And this dish not only combines the flavors of chocolate and bacon, but peanut butter?! Hmmm.
INGREDIENTS:

3 bacon strips , divided
12 round, buttery crackers
1/4 cup REESE'S Spreads Peanut Butter Chocolate , divided

DIRECTIONS

Cook bacon until crisp, cool slightly. Crumble bacon into pieces; set aside.

Spread 1 teaspoon peanut butter chocolate spread on each cracker. Top with several pieces of crumbled bacon. Crackers are best if eaten while bacon is slightly warm. Makes 12 crackers.
Not a complex appetizer at all. In fact, it's sounds like the kind of thing parents and kids could prepare together. And I'm sure many kids would love this. Me, I'm not so sure. I've never had peanut butter chocolate spread, so I have no idea what the flavor is like. If it's too heavy on the peanut butter, I doubt I'd like it. I don't care for a strong peanut butter flavor (even in peanut butter cookies, which I usually like). And if the chocolate in the spread is too sweet, that would definitely be off-putting to me (I don't care for overly sweet foods-can you tell I'm picky?).
Verdict: I'm feeling really uncertain about this dish. I'd probably pop one in my mouth, but I don't hold much confidence that it will be to my liking.
Score: 3
That's it for this week. I can't decide what to feature next week. I'm leaning toward soups, as I've seen SO MANY that look so good and few that leave my levels of puzzlement off the charts. We'll see.