Hollywood, aka Tinsel Town, is home to the entertainment industry of the United States. Viewed as the land of the rich and famous, Hollywood has long been the destination for many people seeking to make a name for themselves, whether on the small-screen, the big-screen, or in the music industry. Unfortunately, with so many people looking for fame and fortune, Hollywood is a difficult industry to break into, let alone succeed in. Some groups of people have an advantage in the industry, due to a bias in their favor. This bias-which favors white, heterosexual, cisgender men-has resulted in a Hollywood that is not reflective of our culture at large. Because of this bias, members of marginalized communities-LGBT people, women, and People of Color-have greater difficulty making it in the entertainment industry. Whether in front of the cameras or behind them, on the big screens or the small ones, these groups have long been plagued by unequal treatment in Hollywood. The second annual Hollywood Diversity Report (available for download here) examined more than 1,000 broadcast, cable, and digital tv programs from the 2012-2013 season and its results were not encouraging.

The report reveals a dramatic disconnect between the reality of America and the Hollywood dream factory. It found that although films and TV shows with casts that reflect the nation's racial and ethnic diversity are more likely to succeed at the box office or in the Nielsen ratings, minorities and women continue to be severely underrepresented as directors, show creators, writers and lead actors.

For example, although women make up a little more than 50 percent of the U.S. population, only 6.3 percent of the films in the study were directed by women, and only 17 percent of film studio senior management were women. Not a single film studio CEO was a woman during the period studied in the report.

Similarly, while racial minorities are approximately 40 percent of the population, racial minorities directed just 17.8 percent of theatrical films in 2013 and represented only 8 percent of film studio senior management. Only one person of color was a film studio CEO.

The report also reveals that more than half of "frequent moviegoers" — a group that buys half of all domestic movie tickets — are minorities, suggesting that the industry's hiring practices are out of sync with its economic interests.
What we're finding is that audiences want diverse content," Hunt said. "They want diverse content created by diverse talent. So the industry would increase its odds of success if there was more diversity in the room."

Ramon said this is true regardless of the race of the viewer. "We found that whites, blacks, and Latinos prefer TV shows with relatively diverse casts," she said.

But finding such shows might be a problem. For instance, the report revealed that white actors dominate TV and cable, making up 81 percent of the roles on broadcast scripted shows and 77 percent of the roles in scripted shows on cable.

The report, the most comprehensive of its kind, also examines race and gender diversity among casting executives, writers, directors, show creators, Academy Award and Emmy Award winners, and talent agency representation.

"There is a disconnect between what sells and Hollywood's business practices," Hunt said. "A lot of it has to do to with the insular nature of the industry and the fact that white males have traditionally controlled most of the plum positions behind the camera and in front of the camera…. People want to surround themselves with those with whom they feel comfortable. Nine times out of 10, that's someone who looks like them."
(source)
Thankfully, there are signs of progress in Hollywood. Frozen, Disney's 2013 box office juggernaut (and the highest grossing animated movie of all time) was a female-led film, as was the similarly successful 2014 film Maleficent (headlined by Angelina Jolie), also by Disney. The African-American led 12 Years A Slave also proved to be a critical and financial success. Over on the small screen, How to Get Away with Murder and Empire-two shows with a diverse cast-were the most-watched shows of the 2014/2015 television season. Of course more can and should be done to even out the playing field and end the bias in favor of a small cross-section of the USAmerican populace. Here are a few upcoming developments that continue the progressive march of pop culture:
1. Arrow's Mr. Terrific: Echo Kallum cast as Curtis Hold in Season 4
Michael Holt, aka Mr. Terrific, is a DC Comics character introduced in late 90's. As a young child, he displayed astonishing intelligence, mastering theoretical physics before he was 10. Holt also has a remarkable aptitude for other subjects, and prior to becoming a superhero, he earned doctorates and masters degrees in law, chemistry, psychology, mathematics and more. He was also an Olympic-level athlete and a self-made millionaire. Following the death of his pregnant wife, Holt considered suicide but was talked out of it, and went on to assume the mantle of the second Mr. Terrific (in honor of a Golden Age superhero of the same name). He eventually joined the Justice Society of America DC's first superhero team (also the first superhero team in the real world), and served a lengthy stint as chairman. Some details of his history have changed with the 2011 reboot from DC, and it is unclear which iteration of the character the creators of Arrow will use for inspiration.
The show's creators have made a few changes already. For one, his name has been slightly altered: he'll go by Curtis Holt. In a more substantial move though, has been a change in his sexuality. Where he was heterosexual in the comics, his character will be gay on Arrow. This is a much needed move for greater representation of LGBT characters on network television. Kallum will appear in the second episode of Arrow Season 4, which debuts at 8 p.m. Oct. 7 on the CW.
2. The Flash casts Keiynan Lonsdale as Wally West
Like Mr. Terrific, Wally West is a DC Comics character introduced in the Silver Age of comics in the pages of the Flash. For most of the characters' history, he was a white redhead, and nephew of Iris West-Allen, wife of Barry Allen, the second Flash. He acquired his powers in the exact same type of accident that gave Barry Allen his superspeed powers (lighting bolt hits chemicals, douses him, grants him super-speed), and went on to become to become Barry's protege as Kid Flash. In the mid-80's, Barry Allen died and Wally succeeded him as the Flash. In DC's 2011 reboot, they wiped away most of their prior history, including Wally West. The character was reintroduced in 2013, this time as a black teenager (YAY) who is the delinquent (UGH) nephew of Iris West. Hopefully the creative team of the television show won't go with such a stereotypical-and offensive-background. What little information has been released indicates that Wally West will first appear as a normal human, but given the character, there is little doubt that at some point he'll suit up and zoom the streets of Central City with the Flash. Season two of the Flash debuts October 6, 2015.
3. The Flash casting Dr. Light for Season 2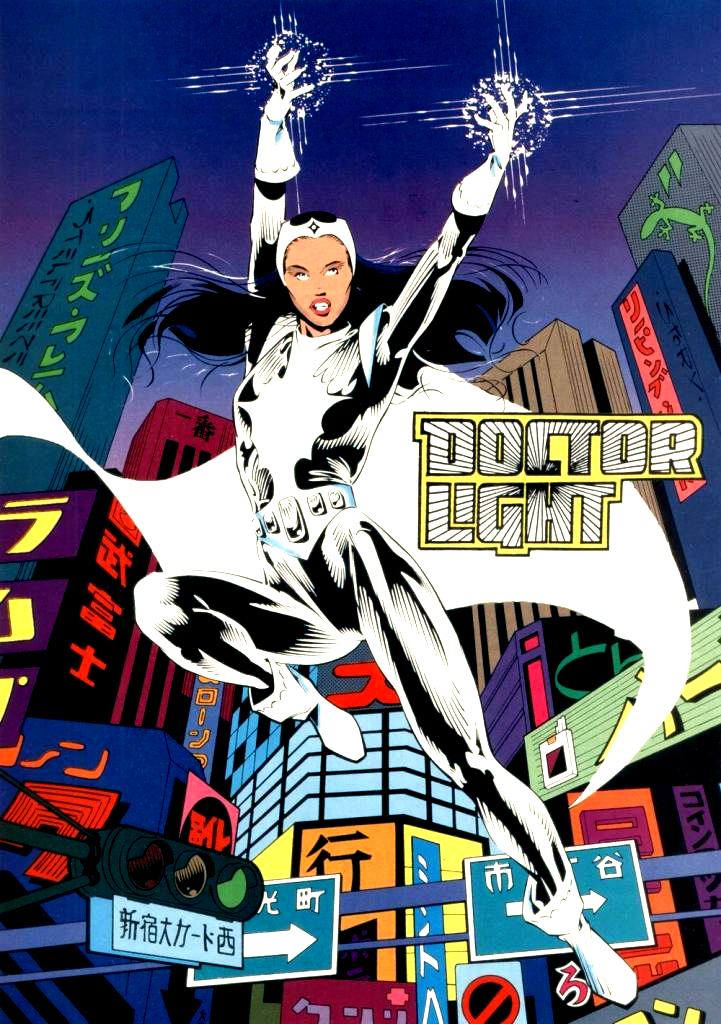 It is currently unknown who will play the role of Kimiyo Hoshi, the second (and female) Dr. Light. Prior to the 2011 reboot of the DC Universe, she was a brilliant astronomer who possessed light-based powers and served as a member of the Justice League during several of its incarnations. She has yet to appear in the current DC Universe. I'll shit a brick if they whitewash her character, as there aren't exactly many Japanese characters on network television, let alone Japanese superheroes.
4. Supergirl
This comic book adaptation stars Melissa Benoist as Superman's Kryptonian cousin, Kara Zor-El. The series will follow the exploits of the 24-year-old heroine as she tries to figure out her path in life once she decides to use her powers for the benefit of mankind. This will be the first time Supergirl has headlined her own television show (though not the first time Kara Zor-El has appeared on television), and will also be the first time a female DC character headlines her own show. Also notable for the casting of Mehcad Brooks-an African-American actor-as Jimmy Olsen (who is white in the DC Comics Universe). Supergirl premieres October 26, 2015 on CBS.
5. Star Wars: Rogue One cast announced
The filmmakers have assembled a stellar cast, including Felicity Jones, nominated for an Academy Award for her leading role in The Theory of Everything; Diego Luna, who was featured in 2008's Oscar-winning Milk and 2013's Elysium; Ben Mendelsohn, recently nominated for an Emmy for his leading role in Bloodline and co-starring in the upcoming Mississippi Grind; Donnie Yen, Hong Kong action star and martial artist who starred in Ip Man and Blade II; Jiang Wen, who co-wrote, produced , directed and starred in the award-winning Let the Bullets Fly and Devils on the Doorstep; Forest Whitaker, recently featured in the critically-acclaimed Lee Daniels' The Butler and winner of an Academy Award for his leading role in 2006's The Last King of Scotland; Mads Mikkelsen, who starred inThe Hunt and was the memorable villain from 2006's Casino Royale; Alan Tudyk, who plays a performance-capture character in Rogue One, stars in the soon-to-be-released Con Man series and Trumbo, which releases this November; and Riz Ahmed, who was recently featured in Nightcrawler and starred in the BAFTA-winning film Four Lions.
On the one hand, the gender ratio sucks, but by my count that's 4 ethnic minorities in a cast of 9 main characters. So that is something of a win. The theatrical release of Star Wars: Rogue One is scheduled for my 41st birthday next year (12/16/16). Aw, a present? For me?
6. Ghostbusters
#whoyougonnacall pic.twitter.com/hnrSjhCqSl

— Paul Feig (@paulfeig) July 10, 2015
Starring Melissa McCarthy, Kristen Wiig, Kate Mckinnon, and Leslie Jones this film is a reboot of the 1984 movie. Little is known of plot details for the movie, but I'm going out on a limb here and guessing our heroines will be hunting ghosts. Since the announcement of the all-female cast, the misogynists of the Internet have been in a furious tizzy, which warms my heart. I'm sure my friend Iris will happily collect their tears in her Palace Pool. The Ghostbusters reboot is scheduled for release on July 15, 2016.
7. League of Extraordinary Gentlemen reboot
This is reboot of the horrid, disastrous, atrocious 2003 LoEG film adaptation of Alan Moore and Kevin O'Neill's critically acclaimed Victorian-era comic featuring literary characters cast in the role of heroes. This is notable because producer John Davis wants the film to be female-centric:
JOHN DAVIS: Just by going back to the roots and making it authentic to what the fan base was really excited about. It's female-centric, which I think is interesting. I love female characters, point-of-view characters in action movies. I thought Mad Max was great. I think you can always find a fresh way of doing something and going back to the basics. What is that people love? What is it that made them love the property in the first place?
It's going to take a lot of conscious and continuous effort on the part of Hollywood executives, creators, producers, writers, and directors to eliminate the bias in favor of white, heterosexual, cisgender men. These seven television shows and movies are steps in the right direction, but more needs to be done. Here's hoping more will be done. A lot more.