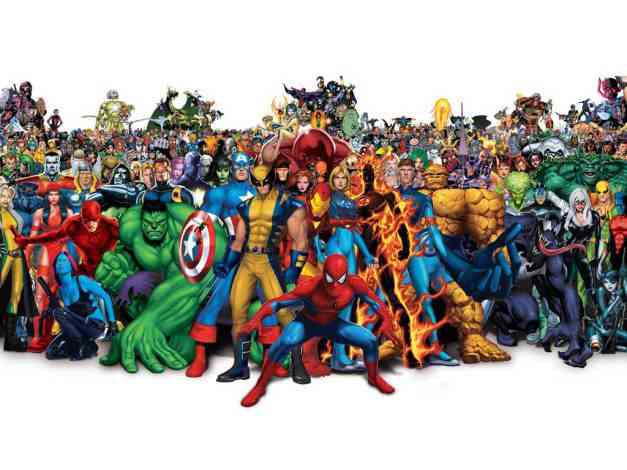 Superheroes have been near and dear to me for most of my life. Growing up, the hero I most loved was Spider-Man. I used to run around the house, pretending I could stick to walls or shoot webs from my wrists. So much fun. Well except for the time I threw the rope from my bathrobe around a metal coat rack and thought I could swing from it. It fell. Hit my head. I was a young little one…maybe five or so. The rack looked similar to this:
It wouldn't have been so bad if I didn't have the habit of removing the plastic coverings that fit over the ends of the hooks. So yeah, when it fell, I fell, and one of the hooks hit my head. I'm sure it's just my brain filling in the details from my mother telling me about this, but I "remember" walking into the bathroom where my mom was doing something and she looked at me and freaked out. I had blood coming from my forehead. Parents out there can just imagine how they'd react if they saw blood dripping from the head of their child. Total [justified] freak-out mode. Turns out it wasn't anything serious, thankfully, but boy did I scare my mom. As I got older, I branched out (though never away) from Spider-Man. I loved the X-Men, Fantastic Four, Avengers, Alpha Flight, Justice League, Justice Society, Wonder Woman, the Authority, Flash, Thor, the Legion of Super-Heroes, every iteration of the Titans, Captain America, She-Hulk and so many more books. Even though I'm nearing 40, my love of superheroes has not changed. What has changed is the appreciation of superheroes in the world around me. No longer are comic books and superheroes treated solely as "kids' things". Today, superheroes are found all across the pop culture landscape, from movies to television to video games. They've even spread into non-conventional areas, and here are five examples:
Following the success of their Avengers-themed collection for Hot Topic earlier this year, clothing company Her Universe has teamed up with Marvel and Torrid to release several fandom-inspired dresses in extended sizes.
The dresses run from $48.50 to $68.50, and come in sizes 0 (roughly 12) to 6 (roughly 30). Fans of the original line will recognize this Black Widow bodycon dress…
For the longest time, I was dead set against wearing clothes that had superheroes on them. I think I had absorbed the message from society that as an adult, I wasn't supposed to enjoy comic books and superheroes and I certainly should not dress in clothes adorned by "comic book characters" (<—to be read in the most condescending, disparaging way possible). Worse, I even looked down on people who did. When he was alive, my best buddy Micah wore them all the time. He was proud and unashamed of his love for comics. In time, he wore me down and I began to realize that wearing the clothes you like is not a reflection of maturity level and is not a statement about the kind of person you are. After he passed away in 2010, my lessons were furthered by many commenters at Pharyngula who taught me that shaming people for the decisions they make about their own bodies-including how they dress-is a shitty thing to do. I'd never have posted something like this link 6 years ago. I'm glad I've changed my mind on that.
(incidentally, there are more dresses available at the link)
* * * *
And now for some clothes for guys…although these are quite pricey.
For 2015 the collaboration continues between the NRL and Marvel, On Round 21 otherwise known as Marvel Super Hero Week where 7 teams will again don jerseys of Marvel Super Heroes. These teams will again wear the Hero Jerseys such as the Sydney Roosters will wear Captain America, Manly Warringah Sea Eagles as the Daredevil, Canberra Raiders as the Incredible Hulk, St George Dragons as Ironman and North Queensland Cowboys as the demi god Thor. 2 New teams have joined the fold, The Newcastle Knights as Spiderman and West Tigers as War Machine from Ironman. Buy these Marvel Super Hero Jerseys online now at Stirling Sports.
There are more available at the link. Warning: aside from the Wolverine jersey (which was made for last year), the others are priced around $150. A bit much for a shirt, IMO. Although if I had the money to blow, I'd get one or two. I like the Daredevil one and the Thor one.
* * * *
Here's something kids might enjoy (probably more than a few adults as well): superhero chair capes. And they're quite a bit more affordable than the NRL jerseys above.
* * * *
If you thought superhero chair capes were quirky, get a load of this:
Unfortunately, Gillette was just teasing us. These are fake:
During a recent media event at their "World Shaving Headquarters" in Boston, Gillette teased a fake line of Marvel superhero razors that were all made with Avengers-inspired technology. The razors are based on the popular superheroes Iron Man, Thor, Hulk, andCaptain America. More information and footage of the razors in action is available to view on the Gillette website.
* * * *
And last but not least-action figures! They're one form of superhero merchandise that people are quite familiar with. I remember back in the 80's, when Marvel produced Marvel Super Hero Secret Wars, which was their first big crossover event:
Kenner had licensed the DC Heroes. Mattel had He-Man, but wanted to hedge in case superheroes became the next big fad. They were interested in Marvel's characters, but only if we staged a publishing event that would get a lot of attention, and they could build a theme around. Fans, especially young fans often suggested to me "one big story with all the heroes and all the villains in it", so I proposed that. It flew. Mattel thought that kids responded well to the word "secret", so after a couple of working names bit the dust, we called the story "Marvel Super Heroes Secret Wars".
Those toys are quaint in an old-school kind of way (I wish they'd have created a Captain Marvel or Storm toy). Over the years, toy design and manufacture has advanced quite a bit. These days you get toys like:
Toys have come a long way since the mid-80s.