Once again, I'm here to share unique, offbeat, bizarre, or occasionally disgusting foods I've discovered in my travels on the internet. Remember, these are foods I haven't encountered much (or at all), so while they may be familiar to readers, I've yet to try them. As usual, I'll add my thoughts on each entry and then I'll give my verdict on whether or not I'd try the dish. First up:
blue cheese grits
4 cups low-sodium chicken stock
1 cup quick-cooking grits (I like the quaker 5 minute grits, but you can definitely use the stone ground if you're a grit purist! – just follow the directions they come with.)
4 ounces fontina cheese, freshly grated
8 ounces blue cheese, crumbled
2 tablespoons unsalted butter
1/4 teaspoon salt
1/4 teaspoon pepper

crispy buffalo shrimp
1/2 cup buffalo wing sauce (my favorite is frank's red hot wing sauce)
3 tablespoons unsalted butter
3 green onions, sliced
1/4 cup fresh cilantro
1/4 cup freshly snipped chives
1 pound raw peeled and deveined shrimp (I like the larger grilling shrimp)
1/2 teaspoon salt
1/2 teaspoon pepper
1/2 teaspoon smoked paprika
1/2 teaspoon garlic powder
2 tablespoons all-purpose flour
4 tablespoons unsalted butter
1/3 cup crumbled blue cheese
directions:

blue cheese grits
Bring the stock to a boil in a medium saucepan. Once boiling, add the grits and whisk constantly until they are fully mixed into the stock, about a minute or two. Reduce the heat to low and cover, stirring once or twice more, until the grits are thicker and creamy, about 5 minutes. Stir in the butter, grated fontina, blue cheese salt and pepper. Taste and season more if desired – this will depend on the salt in your stock and cheese.

crispy buffalo shrimp
Place the wing sauce and butter in a small saucepan and heat over low heat until warmed and the butter is melted. Set aside until ready to use. In a bowl, combine the green onion, cilantro and chives.

Pat the shrimp completely dry with paper towels. Once it's dry, season it with the salt, pepper, paprika and garlic powder. Toss it lightly with the flour. Heat a large skillet over medium-high heat and add 2 tablespoons of butter. Once it's melted and begins to sizzle, add the shrimp in batches (don't overcrowd it!), adding the remaining butter and cook on both sides until pink and slightly crispy. Once all the shrimp is cooked, put it all back in the skillet or in a bowl. Drizzle it generously with the wing sauce mixture and sprinkle with the onions, cilantro and chives.

Serve by spooning the grits into the bowls and topping with the shrimp. Add more onions and chives on top, the crumbled blue cheese and generous drizzles of wing sauce. Eat up!
[adapted from my gouda grits + brown butter shrimp]
With so many ingredients I like in this dish-grits, shrimp, buffalo wing sauce, chives, blue cheese-there is only one problem I anticipate: the amount of blue cheese in the grits appears to be more than my taste buds are comfortable with. Don't get me wrong, I like blue cheese crumbles. I *love* them on a salad or on a burger (oddly enough, I don't like blue cheese dressing though), but this recipe seems to call for a substantial amount of BC in the grits. However! All that said, if I were going to prepare this recipe (part of me wants to say 'fix' this recipe), I'd simply use significantly less BC. In fact, I might just forego the use of BC in the grits, and simply top the finished product with some of the lovely cheese. Seems like a nice compromise to me. YMMV!
Verdict: With a slight tweak, I'd try this dish and probably eat every darn bit of it!
* * * *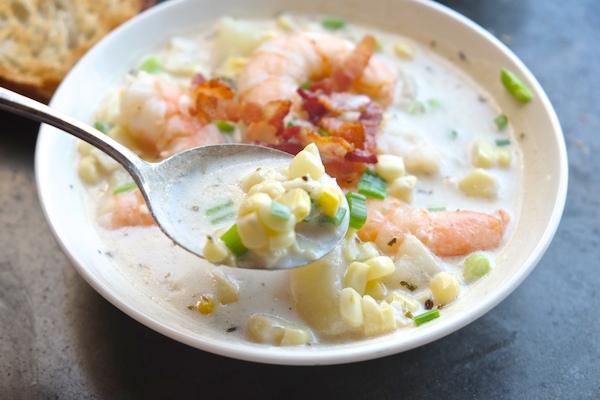 6 ears corn, husks and silks removed

4 slices bacon, cut into 1/2-inch strips

8 scallions, white and green parts separated and thinly sliced

2 medium baking potatoes, peeled and cut into 1/2-inch pieces

2 tablespoons all-purpose flour

3 cups whole milk

2 teaspoons Old Bay Seasoning

1/2 teaspoon dried thyme leaves

1 pound large peeled and deveined shrimp

Coarse salt and ground pepper

grilled bread or crackers, for side

Cut off tip of each cob. Stand corn in a wide shallow bowl; using a sharp knife, slice downward to release kernels. Scrape length of each cob with a spoon to release pulp. Discard cobs.

In a large saucepan, cook bacon over medium-high until crisp and browned, 4 to 6 minutes. With a slotted spoon, transfer bacon to paper towels.

Add scallion whites and potatoes to pan; cook, stirring, until scallions have softened, 1 to 3 minutes. Add flour and cook, stirring, 1 minute. Add milk, seafood seasoning, thyme, and 2 cups water.

Bring to a boil; reduce to a simmer and cook, stirring occasionally, until potatoes are tender, 10 to 12 minutes. Add corn, shrimp, and scallion greens. Cook until shrimp are just opaque, 2 to 3 minutes. Season chowder with salt and pepper. Serve topped with bacon, with grilled bread or crackers alongside if desired.
While I very much like soups, I've never had any sort of chowder. This dish looks delightful though. It's got so much NOM NOM-ie goodness: bacon, shrimp, potatoes, and scallions. I can just imagine how good it tastes.
Verdict: Not only would I try it, I anticipate loving it!
* * * *
Now it's on to an item I'm none too sure of-Vromage's vegan cheese!
Yousseff Fakhouri is the man behind the vegan cheeses at Vromage—fromage being French for cheese, but with a 'v' for 'vegan.' He told LAist he doesn't keep recipes—rather, he prefers to have them all in his head. His shop is closed on Mondays and Tuesdays and that's when he makes the cheeses, but he kindly allowed me to stop by on a Tuesday to sample seven cheeses and discuss how he went from a meat-eater to an in-demand vegan cheesemaker.

Fakhouri, whose parents are Lebanese, grew up in Casablanca. His mother was a chef and he too learned how to make pastries and classical Moroccan cuisine. Eventually, Fakhouri moved to Santa Barbara where he opened a restaurant, then moved to New York City and worked in archaeology with some family members. Throughout this time, he continued to cook and travel often. When he eventually made his way to Los Angeles, he met several friends who were vegetarians or vegans. One in particular was a "beautiful young vegan" and chef who he found himself interested in and so, to win her favor, he experimented with a cashew cream sauce she had made.

"I didn't like [the sauce], so I manipulated the taste to impress her," he said. "I would use it as a way to spend time with her. 'Here, tastes this!' Slowly, I saw myself making delicious cheese."

He continued to experiment with making cheese and from nuts and seeds as a way to woo the woman. And though this isn't a fairy tale story that ends with them being together, the plant-based courtship did change the course of Fakhouri's life and career. "She ended up with her girlfriend," he said, "and I ended up with my cheese shop."

Fakhouri gave up meat himself in 2009, though he isn't a vegan. He says he puts a little half and half in his espresso and enjoys a dessert made with butter or milk from time to time. He said that he now he does have an awareness for animals, which only kicked in after the cheesemaking. The shop he said, similarly, isn't just for vegans, though many certainly visit—including members of animal activist groups. Vegans, he reasons, will continue to not eat meat or dairy no matter what, but for others, he calls it "conversion by taste."

Fakhouri, who lives in the same neighborhood as his shop, worked on his vegan cheese for five years before he felt ready to debut the shop. He said he would take the cheese to parties and place them on a table and see who would be fooled. "When I could trick the French and Italians, I knew I had a product," he said.

And trick you, he can. The Yelp page for his shop is full of rave reviews from vegans, the lactose intolerant and people who are neither just looking to try it out. I personally am not a vegan, though I am someone who limits dairy and has tried and failed to find a vegan cheese I like. Fakhouri gave me a small sample of his goat cheese, six slices of cheese and a 'faux gras.' These samples included a brie with truffle, a pepperjack, a spicy cheddar, a white cheddar, a bleu cheese, a manchego and a feta. Each one had a soft texture (which worked very well for the feta and goat), and each reasonably passed for its namesake when spread on a cracker. The pepperjack—flavored with sesame, pepper, paprika and cayenne—was perhaps the least true taste, and the spicy cheddar I liked for their kick. But some of them really floored me. My favorite was the brie with truffle followed by the sharp white cheddar. The latter was Fakhouri's favorite, he said, but only "for the week." This cheese Fakhouri ferments for longer, and it has a smoky flavor. The faux gras did taste like a liver pâté, though in the interest of full disclosure, I've never had foie gras itself. This is made with truffle, chestnuts, pine nuts, hemp and sunflower seeds.
I'm not the biggest cheese fan. Don't get me wrong-I like cheese, but in certain quantities and usually mixed with something. Cheese in scrambled eggs. Cheese grits. Cheese atop a hamburger. Crumbled blue cheese on a steak. That kind of thing. Every now and then, I've found a cheese I'll eat pieces of (I once found a rosemary Gouda cheese that was *heavenly*), but even then, it has to be paired with some type of meat (or on a Ritz). So the idea of eating cheese by itself doesn't really appeal to me. Still, it sounds at least worth a try.
Verdict: meh…I'd try it. Not thinking I'll like it, but hey, I've been surprised before.
* * * *
And now we're into seriously questionable territory-toast. Not just any toast though. I'm not talking buttered toast with oatmeal. Or a lovely multi-grain toast with apple butter (which makes my mouth water just thinking about it). No, we're talking THIS–
Huxley
The richest toast on this list consists of avocado, sea urchin, sesame and seaweed on Jane bread. Yep, it's fork-and-knife material at a lovely sit-down neighborhood spot on a — no shit — charming block in the TL.
Ummm, no. For one thing, toast is an accompaniment in my book. It goes with things. Grits, eggs, and toast. Oatmeal and toast. Cereal and toast. But toast on its own? Meh. On top of that, there are only two ingredients that I like in this…dish (does toast qualify as a dish?): avocado and sesame. Between them, I only like avocado in small doses (and even then, it has to be mixed with something, ala a nice mixed greens salad). This is waaaaay too much avocado for me. And sesame? Well that's not exactly a food you eat on its own. As for the rest, I've never had sea urchin, nor have I had Jane bread (not even sure why a Firefly character gets his own bread-j/k) so I can't really judge either one of them. Looking at this toast though, there's nothing that even remotely says "come eat me".
Verdict: I do not think this will ever number among the things I put in my mouth.
* * * *
Closing out this edition of Eclectic Eats is something that I maybe, kinda, sorta, possibly want to eat the fuck out of- Fish Tacos! Whoa, though! Hold you horses. We ain't talking just any fish tacos. I've worked at several Mexican restaurants. One of them had frozen fish filets that they tried to claim were fresh. Uh-uh. That shit came in to the restaurant pre-packaged and frozen. It was Mahi Mahi. It was coated in some really good bread crumbs, to be sure. But it wasn't fresh. And it wasn't grilled or blackened like many people wanted. It was fried. Which was ok, if that's what you're looking for. The next Mexican restaurant I worked at had fish tacos as well. This place served Mahi Mahi as well, but it was grilled. It was also frozen, but unlike the previous restaurant, the fish wasn't billed as fresh (can you tell I'm a bit bitter about that crap?). The fish tacos were ok. I wasn't a huge fan of them. To be honest, I wanted to see someone who made fish tacos out of one of salmon, which is probably my favorite of all fish. So I can't tell you how excited I am at the prospect of fish tacos with salmon!
"I like real food," explains Malnati. "Vacationing on the west coast and in Mexico, I love eating healthier, eating lighter and fish tacos became my go-to over the last five to six years." However, whenever Malnati returned home, he was disappointed with the lack of decent fish taco options in Chicago. "No one is doing it great," he insists. "We can do it great. We can bring in fresh fish."

Out of that simple vision, Buzz Bait Taqueria emerged. Malnati has been working on the concept for years, but it kept getting pushed aside.

"We thought were going to do it before all these other taco stands started opening in town, but we got busy and opened three restaurants in 15 months," explains Malnati. "So we shelved it for a little while, but it wouldn't go away! It kept popping up—when I woke up in the morning, I'd think 'I wonder if we should do that fish taco thing.'"

Set to open the weekend of Aug. 21 in Old Town, the fish taco place is a partnership between Malnati and Giulia Sindler, an owner of Kamehachi. The partnership was born out of a mutual love for the food.
I can't express how delicious I find the above image. It's mouth-watering. They (whoever 'they' are) say you eat with your eyes, in addition to your mouth, and there's a lot of truth to that. For many people, a visually appealing plate of food makes a good impression. It makes you want to devour it. That's probably a universal concept for restaurants-plating the food in such a way that it looks eye-catching. And I'd say the above image does that. Yeah, I know the actual product probably doesn't look quite that good. I've seen photo-ops for plates of food. They're made to look perfect, rather than how they're presented in the middle of a super busy Friday night. But even then, a good chef ensures that the food exiting the kitchen looks appealing. So I trust that this salmon fish taco from Buzz Bait Taqueria looks very much like the image above.
The only thing I'd change is to eliminate some of the slaw and salsa, if only to close the taco and fit it in my mouth. But that's not an indictment of the dish by any means!
Verdict: If you can't guess, you might need a clue-by-four. WANT!
That's it for this week-three dishes I want to scarf down asap, one that I'm rather ambivalent on, and another that's filed away in the NO folder. Which of these dishes appeals to you, dear reader? Let me know, I'm curious.