On a regular basis, individuals across the U.S. demonstrate that they are not responsible gun owners. Oh, they may have passed a background check and obtained a license and/or a permit, but have they demonstrated-prior to owning a gun-that they aren't an aggressive individual with a hair-trigger temper? Have they shown knowledge of how to resolve conflicts without resorting to violence? Probably not, because there are no such requirements for owning a gun or obtaining a license (why would there be in a country like the United States where gun ownership is valued above and beyond all other considerations). And that's a shame because there are many people who should never be allowed to own a gun. All too often these people fail to handle guns with the proper care, resulting in someone being injured or killed. Here are 5 recent examples:
An Onalaska man is accused of shooting his roommate in the leg after using the handgun's laser sight to tease his cat.

Vaughn Rothering, 22, told police his cat was chasing the laser on the porch of his house at 204 King St. in Onalaska before he spun the gun in his hand, according to the complaint filed in La Crosse County Circuit Court.

The Glock 9mm handgun fired while Rothering was "messing around with it," and lodged a bullet in his roommates' ankle, the complaint stated.

The victim was treated at Gundersen Health System.

The shooting was reported on May 11, although Rothering made his first court appearance Friday on a felony charge of injury by negligent handling of a dangerous weapon. He returns to court at a later date.
Yet another case of a fool treating his gun like a toy. If you want a laser pointer, go to your local Walgreens and buy one in the pet aisle. They're pretty cheap and unlike a gun, you can't accidentally (or purposely) injure or kill anyone. Why? Because they're toys. They are not designed to cause destruction, injury, or death. Contrast that with guns, which are designed for those purposes. Guns are lethal weapons designed for very narrow and very destructive purposes. If you want to play with a toy, don't pick up a damn gun. If you want to use a gun, handle it responsibly.
Thankfully the roommate is not seriously harmed. I do wonder if they'll remain friends after this. If I had to guess, I'd say no. Likewise, I think the girlfriend of the guy in the next story won't stay with him after she gets out of the hospital.
* * * *
Officers told 20-year-old Alejandro Luise Rodriguez to leave the home in the 5600 block of Northeast Glisan Street when they arrived shortly after 10 p.m., police said. Rodriguez was taken into custody.

The 18-year-old woman was taken to a Portland hospital with serious but non-life-threatening injuries, police said.

An investigation is underway, and Rodriguez may have accidentally shot the woman after recklessly handling a loaded shotgun, according to police.

Rodriguez was charged with second-degree assault, unlawful use of a weapon, reckless endangerment, and discharging a firearm in the city.
What was going through this guys mind? Whatever it was, he clearly wasn't thinking about how he should be handling a loaded weapon. The recklessness shown by many gun owners is appalling. Instead of treating these weapons as the potentially deadly tools they are, they treat them like they're water guns. The other thing I wonder is how much, if any, official training he received in the use of that shotgun. Did he due his due diligence and ensure he was aware of firearm ownership laws? An awareness of the gun laws and thorough training in the use of firearms-these are things that every gun owner should be aware of and do. The deadly potential of guns ought to be taken seriously, and every effort should be taken to reduce the chances of accidental discharges.
When it comes to guns, it's bad enough when civilians treat them haphazardly or disregard laws. But when it's a member of the armed forces, it is worse.
* * * *
A Navy recruiter is recovering in the hospital after accidentally shooting himself with his personal weapon that he brought to work Friday morning.

Gainsville Police said he accidentally shot himself in the upper thigh. No one else was injured.

The incident happened at a military recruiting office on Dawsonville Highway.

Police said they are looking into whether the recruiter brought the gun for protection in light of the events that occurred in Chattanooga. As of Friday afternoon, the recruiter who shot himself did not make any statements to investigators.

The policy at the recruiting center is indicated on signs posted on the window of the facility. It clearly states that no guns are allowed. Not even for recruiters.

The man couldn't have his gun on his hip because of the policy, but other store owners tell CBS46 that they heard the recruiter may have been hiding the gun in his front pocket. They say it went off as he was sitting down.
The event referenced above was the July 16 incident of gun violence (and possible terrorism) by Muhammad Youssef Abdulazeez. The shooting, which took place at a Navy recruitment office in Chattanooga, TN, took the lives of five people. In the wake of that, I fully empathize with the immediate emotional response and the desire to ensure one's safety. However, the officer knew full well that federal policy prohibits unauthorized personnel and civilians from bringing firearms into recruitment centers.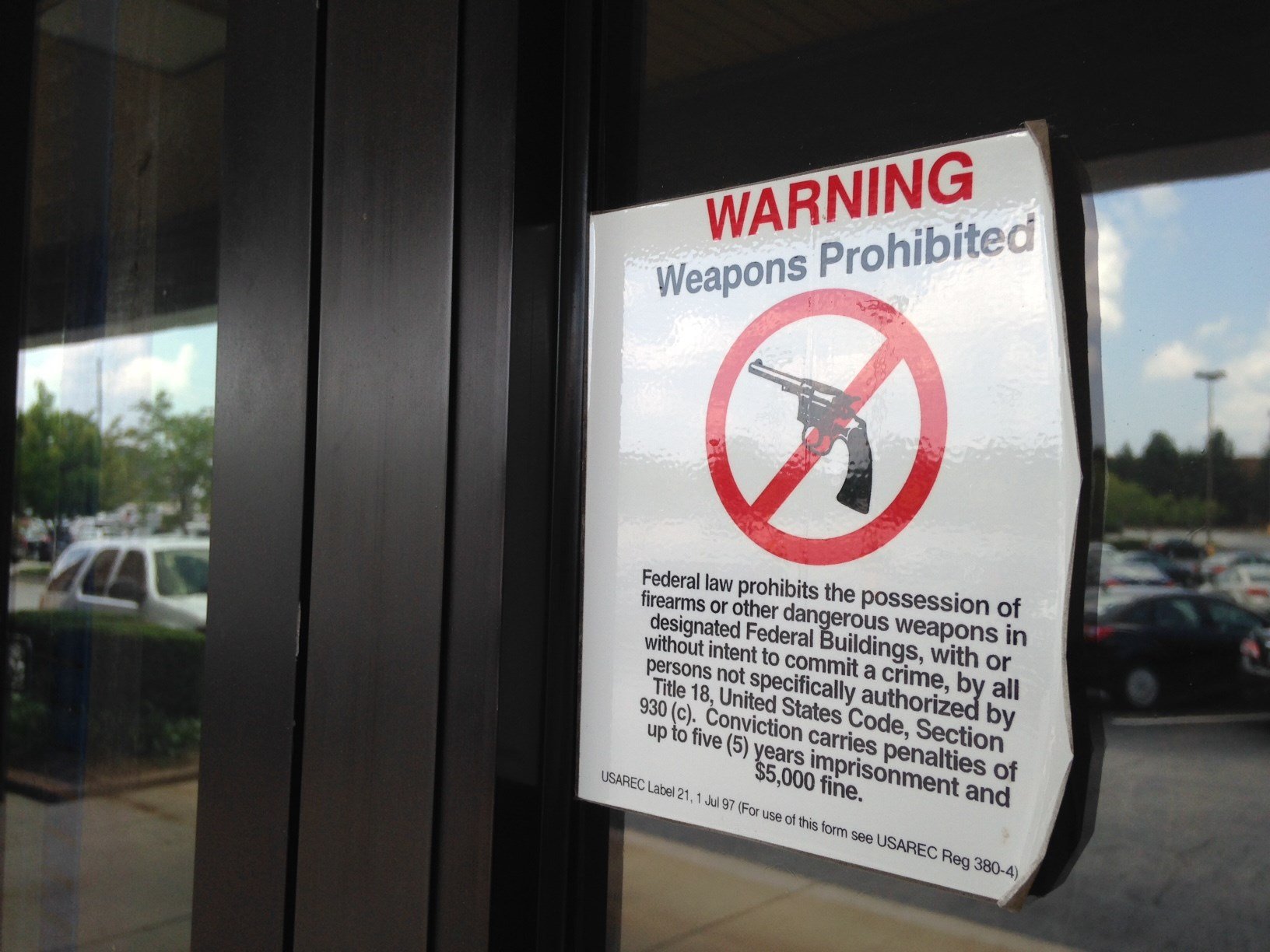 As an agent of the government he is charged with upholding and following the laws of this country. It should also be noted that although military centers have a history of being targets of violence, there have only been the three attacks in the last seven years. Based upon that information, and given the number of military recruitment offices across the country, it stands to reason that most people are not in significant danger. If the federal government opts to allow armed guards at these centers, that is one thing, but unauthorized personnel or civilians should be prohibited from possessing a firearm on the premises because:
"An Army recruiting center is the Army in the community. If young men and women want to come and talk to us, we need a nice, open area for them to come and do that," said Brian Lepley, a civilian spokesman for the U.S. Army Recruiting Command. "We need a welcoming area. You know, barricades, barriers and built like a fortress is not really an inviting atmosphere."
While those unauthorized individuals above are prohibited from possessing a gun in a federal building, outside of that context, they are-generally speaking-free to own and possess a gun elsewhere. For the most part, the United States government is incredibly lax in who is legally allowed to possess a gun. I often wish the government would tighten restrictions on gun ownership, bc as you'll see with the next story, some people really should not be allowed to own a gun.
* * * *
A driver who tried picking up a mango in the middle of the road found himself under fire.

According to the Lee County Sheriff's Office, the man and his wife were out celebrating their wedding anniversary when they spotted the fruit in the middle of the road in front of a house. The homeowner, 64-year-old Josefina Tometich of Fort Myers, threatened to shoot the man if he took the fruit, according to a report by news-press.com.

The man promptly returned to his truck empty-handed and drove off, stopping at an intersection down the road. While stopped, the truck's back window shattered and the passengers noticed Tometich walking behind the vehicle with what looked like a rifle, according to the report.

After a 911 call was made, deputies found a pellet gun in Tometich's home and arrested her. She was released two hours later on $7,500 bond, according to the sheriff's office.
Josephina Tometich is exactly the type of person who should not be allowed to own a weapon. I don't care what her reasons were-there is no excuse for being willing to kill someone over fruit. Finally, in another case of "why was your gun loaded", a Seattle man accidentally shot his girlfriend in the abdomen…while cleaning his gun.
* * * *
A man getting ready to clean his handgun shot his girlfriend in the abdomen Friday night in Puyallup, according to the Puyallup Police Department.

The woman, 22, was taken to Tacoma General Hospital with potentially life- threatening injuries.

Shortly after 10 p.m. officers responded to a report of an accidental shooting in the 1700 block of West Stewart Avenue. Police said the woman told officers her boyfriend had accidentally shot her when he was preparing to clean his pistol.

The 21-year-old boyfriend was "extremely distraught about the incident," police said, and was cooperating with the investigation.
What the fuck was this guy doing cleaning his gun without first ensuring it was not loaded? I mean FFS, even the NRA, that most conservative gundamentalist organization in the country will tell you-ensure your gun is unloaded before cleaning:
Cleaning
Regular cleaning is important in order for your gun to operate correctly and safely. Taking proper care of it will also maintain its value and extend its life. Your gun should be cleaned every time that it is used.

A gun brought out of prolonged storage should also be cleaned before shooting. Accumulated moisture and dirt, or solidified grease and oil, can prevent the gun from operating properly.

Before cleaning your gun, make absolutely sure that it is unloaded. The gun's action should be open during the cleaning process. Also, be sure that no ammunition is present in the cleaning area.
This is one of the most basic things you must do when cleaning a gun and even the NRA recognizes that. This man, like so many others, demonstrated that he cannot wield a firearm properly and as a result, someone got injured. He needs to lose his right to own any type of firearms. And he needs to go to jail.