Last week, evangelical pastor Franklin Graham (son of Christian evangelist Billy Graham), took to Facebook to express his outrage over a Wells Fargo commercial. The president and CEO of the Billy Graham Evangelistic Association was incensed that Wells Fargo ran an ad featuring a lesbian couple learning sign language so they could adopt a deaf child. Here is the commercial that caused Graham to shit a brick:
In response to the video, Graham angrily announced he and his ministry would end their affiliation with Wells Fargo and seek another banking institution to do business with. In his Facebook rant, he says:
Have you ever asked yourself–how can we fight the tide of moral decay that is being crammed down our throats by big business, the media, and the gay & lesbian community? Every day it is something else! Tiffany's started advertising wedding rings for gay couples. Wells Fargo bank is using a same-sex couple in their advertising. And there are more. But it has dawned on me that we don't have to do business with them. At the Billy Graham Evangelistic Association, we are moving our accounts from Wells Fargo to another bank. And guess what—we don't have to shop at Tiffany & Co., there are plenty of other jewelry stores. This is one way we as Christians can speak out—we have the power of choice. Let's just stop doing business with those who promote sin and stand against Almighty God's laws and His standards. Maybe if enough of us do this, it will get their attention. Share this if you agree.
Plenty of people have criticized his bigtoed comments (he has many critics in the comment section of his FB post), and readers can probably imagine how I feel about it (I abhor his homophobic views; that commercial was sweet and treated both a lesbian relationship and people with hearing loss/impediments respectfully). Graham's calls for a boycott by Christians of Wells Fargo and other LGBT-friendly institutions provided excellent fodder for MSNBC's Rachel Maddow. In a recent segment, Maddow covered Graham's angry tantrum in her usual inimitable fashion. She also pointed out the guffaw-inducing irony of Graham's new banking choice:
Yes, it really is hilarious that in attempting to boycott one LGBT-friendly bank, he wound up supporting a bank that is so LGBT-friendly that they are a sponsor of Miami Beach Pride! The other funny thing? Franklin Graham is going to have a hard time finding businesses that are not LGBT-friendly. If you doubt me, check out the Human Rights Campaign's Corporate Equality Index, which rates USAmerican workplaces on LGBT equality. Incidentally, despite Graham's whining, Wells Fargo has said it will not pull the ad.
Now, I don't know if I'm suffering from some type of cognitive bias or not, but it seems to me that in the last few years, more and more companies are openly courting the LGBT community. I'm not referring to anti-discrimination policies, which are of course a good thing for LGBT people, as they ensure that, well, they have workplace protections in case they experience bigotry or discrimination based on their sexuality. No, what I'm referring to are public statements, television ads, or other actions that openly and without reservation show that a company is supportive of LGBT people. Apart from Wells Fargo, other companies supporting the LGBT community include:
Chobani (warning: this video may be NSFW-Not Suitable For Work):
Proud Parenting has embarked on a new LGBT parenting project with the help of toy manufacturer Fisher-Price. The two organizations have launched a photo gallery that showcases some of America's three million LGBT parents with their families.

"We are thrilled to partner with Proud Parenting for its first-ever program to increase the visibility of LBGT families," said Hailey Sullivan, Director of Marketing, Fisher-Price. "Fisher-Price is proud to help all parents give their children the best possible start in life."

The goal of the program is to increase the visibility of LGBT parents and to encourage interaction and support between LGBT parents, their friends and their allies. Proud Parenting will be featuring new families throughout the summer on their website, Instagram, and Facebook pages.

"We are excited to partner with Fisher-Price on the Proud Parenting LGBT Family Photo Gallery," said Jeff Bennett, Founder and Editor-in-Chief, Proud Parenting. "With a long-standing history of diversity and inclusiveness, they are now leading the way for a new generation of families."
Taking a look at those images (which for some reason I cannot copy here otherwise I'd showcase some of them) is touching. I think they give a good cross-section of the diversity in the LGBT community. There are families of all manner of ethnicities and that impresses me. I was afraid I'd find a sea of white faces, because for all that society is progressing in some ways, it lags behind in others. There is still a bias in society-in all areas of society-in favor of white people. Anytime that bias is challenged and the doors opened up to presenting people of other ethnicities and white people (I have zero problem with white people, I just don't think they should be the only-or even the main-ones focused on) I find reason to celebrate. The human experience is so incredibly diverse, and in attempting to capture any group of humans, especially for commercial purposes, it makes sense to be as inclusive as possible.
The company stood up for LGBT rights today during a Twitter chat with one of their passengers, Nathan Lorick, which resulted in some homophobic sentiments from the user.

"Flying on @AmericanAir without a delay is highly unlikely…Always delayed.. One reason I have not flown with them nearly as much this year!" Lorick tweeted angrily on Tuesday. "@NathanLorick We're sorry for the delay, Nathan. We see that you are on your way and we'll have you home shortly," they responded.

Norick then called out American Airline's rainbow colored Twitter avatar photo. "@AmericanAir what's the deal with the rainbow colored image?" he wrote before AA replied, "@NathanLorick June is pride month across the globe and we are proud to support the LGBT community and its allies."

"@AmericanAir Seems like a poor choice from a company that certainly has many customers who do not agree with that lifestyle! #disappointed," he wrote.
In response, American threw some sweet shade!
@NathanLorick We're sorry for your disappointment.

— American Airlines (@AmericanAir) June 15, 2015
That's the kind of response I like. For a company that wants business…that wants to make money, it doesn't make financial sense to exclude a huge segment of the population. Now, Nathan Lorick might think they're excluding people in his demographic, but they've always supported people in his demographic. They've just decided it is in their best interests to expand their marketing efforts to appeal to other demographic groups. Especially those that have been excluded for so long.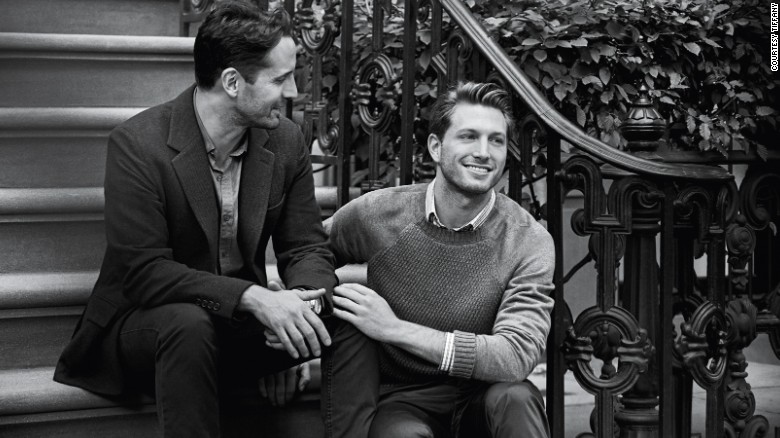 The new "Will You?" campaign, shot by fashion photographer Peter Lindbergh, features seven scenes of couples.

One in particular is drawing widespread praise for showing a same-sex couple.

The pair, shown sitting on a stoop in New York City, are a couple in real life, Tiffany spokeswoman Linda Buckley said.

The 178-year-old jeweler best known for its little blue boxes says this is its first ad to depict a same-sex couple. The company joins a growing list of brands using same-sex couples in promotional materials, from Banana Republic to Target.

The campaign aims to show that love comes in a variety of forms, Buckley said.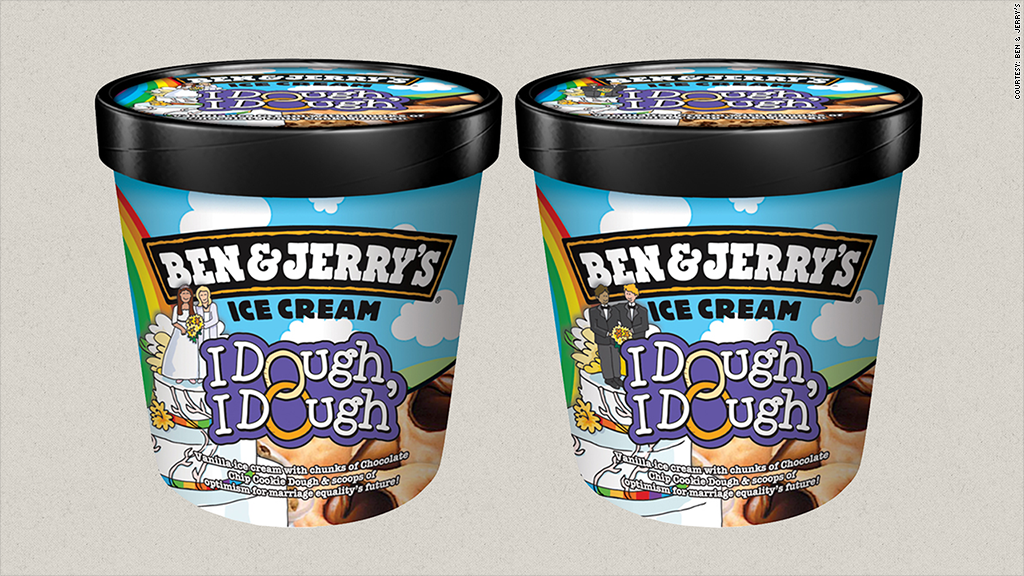 The socially-minded ice cream makers re-branded two flavors in support of same-sex marriage. After same-sex marriage was legalized in Vermont, Chubby Hubby ("Vanilla Malt Ice Cream with Peanutty Fudge-covered Pretzels with Fudge & Peanut Buttery Swirls," available in the U.S.) was renamed Hubby Hubby. And when same-sex marriage was on the table in the UK, Ben & Jerry's renamed the apple pie flavor available there Apple-y Ever After.
and Nike's 'Be True' Collection:
And all of that is in the past few years.
I am quite pleased to see such large companies recognize that the LGBT community has a great deal of purchasing power (not all of course, as there are plenty in our community who have no expendable income-thanks capitalism and income inequality) and have chosen to court our community. I long for the day when this is the norm, rather than the exception…when all companies market to lesbian, gay, bisexual, and transgender people as they do heterosexual people and it's just business as usual. Can that day hurry up and get here already?