Right wing authoritarians seem to bleed hate, and they almost live in a perpetual state of pissiness, especially on subjects like guns, abortion, or queer rights. They're freaking out again, this time over a fake news report:
On Monday, totallyfakeandnotreal "satire" news site National Report published an articleclaiming they had obtained a leaked script of the upcoming Superman Vs. Batman [sic]: Dawn Of Justice, one that portrayed the Dark Knight as "an out-and-proud homosexual." Naturally, Internet bigots treated the report with their typical level of caution and skepticism, going completely bat-shit over the bat-rumors.
There is no chance Warner Brothers would allow a script to be approved that had a gay Batman (which is a problem of its own, but not the subject of this piece), so the idea that a movie would be produced with a queer Batman is laughable. Apparently some conservatives took it seriously:

You have to love the mindset that implies that if you support the idea of Batman and Superman being gay, you're not a decent American. There are a lot of people who be up in arms about it if Supes and Bats were made into gay characters, but there would be many that wouldn't mind it. Some would even like it. Fuckers like 'S', above don't get to decide who is a decent American, thankfully.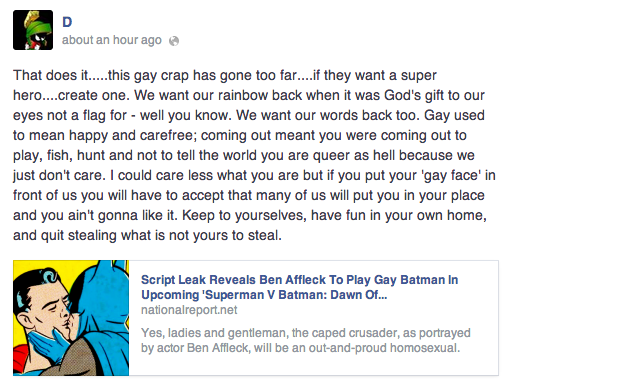 This guy doesn't want to see, nor hear about gay people. He wants things to go back to the way he likes. When he was comfortable. When the world catered to his desires. When the media did portray OMG gay people. When we were in the closet for fear of our fucking lives. Not gonna happen buddy. We're not going out. It may be an overused saying, but "We're here. We're queer. And we ain't going anywhere."
We have just as much right to exist as you do. We aren't asking for much. We want the same rights as heterosexuals have. We want to be represented just like heterosexuals have been for millenia. We want to read books, watch movies, and listen to music that reflects us, just like heterosexuals have had for millenia. As human beings we deserve that. And we're not even asking people to stop making material for heterosexuals. We just want to be included in that material. We want people to acknowledge that we exist, and that we have a right to be treated just as normal as anyone else. We exist everywhere and we're not here to harm anyone (god that makes us sound like an alien race infiltrating humanity for devious purposes, ala 'V'). Conservatives that can't stand their small worldview being shattered-those are the people with the problems. You're the people that can'd stand black people asking for rights and representation. You're the people who can't handle women demanding to have bodily autonomy and equal political representation. You're the one with the problem dealing with queers wanting to live openly without fear of harassment, job termination, or being murdered.
You people need to deal with your problems and join the 21st century, because none of us is going away.
Change into better human beings and work alongside us to make the world a better place for everyone. Or you can sit over there, whining and complaining, impotently, as the world passes you by and you fade into irrelevance. The choice is yours.