It's Mother's Day today in many countries around the world. Many more countries have already or will soon be honoring mothers everywhere. Moms are important! Whether the moms you're celebrating today are your biological, adopted, step, honorary, grand, great-grand, friends, cousins, or otherwise admired mothers, they've played a critical role in ensuring that a) there will be children and b) those children are (usually) at least somewhat civilized. I've watched my own moms and all the moms in my circles parent kids, and I'm incredibly grateful to them for doing that tough job. Some of them even do it mostly alone, which is even tougher! Massive respect, Moms!
In honor of Mother's Day, let's see what sort of inspiration we can get from the Book of Genesis. Sorry-not-sorry to say it's mostly really terrible.
Genesis 3:16 is juxtaposed with Paul Peel's "Mother Love." I love the frolicking kittens! And the mother's adoring expression as she gazes at her infant clashes wonderfully with God's vicious curse. I mean, seriously, what kind of asshole condemns all mothers for all time to horrific suffering in childbirth just because this one chick ate a piece of fruit this one time?
Karoly Brocky's idyllic "Mother and Child" is a beautiful contrast to the terrible verse where Abraham forces his sex slave and their son into the desert. He provides her only one bottle of water and a bit of bread – obviously, he's one of those dudes who doesn't believe in child support. But, y'know, it's totes okay cuz God gave him the go-ahead.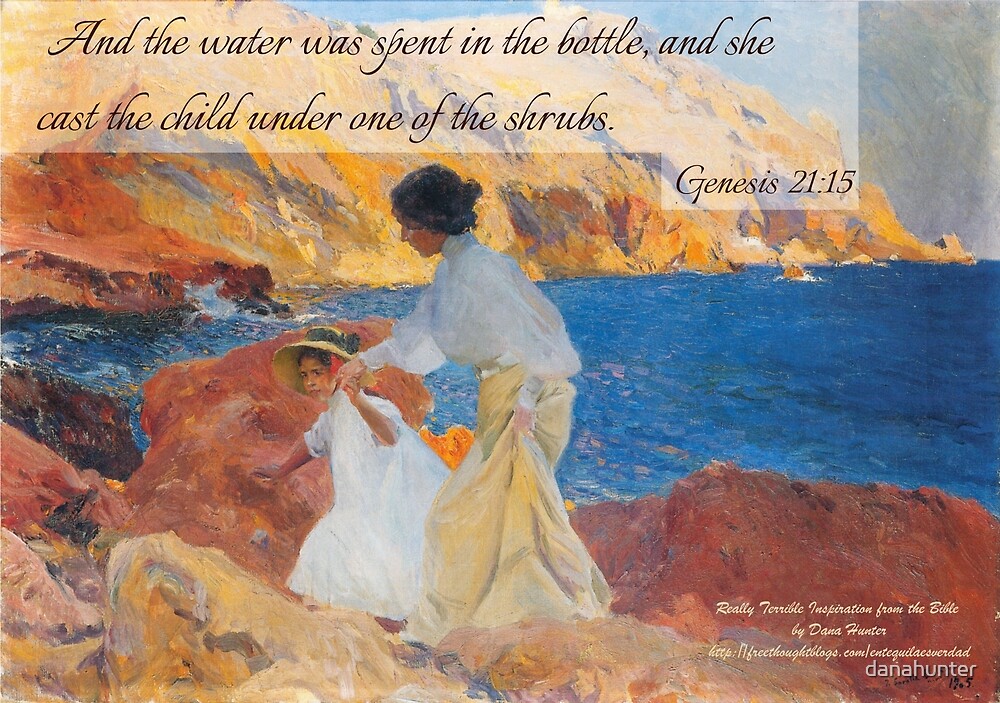 Joaquín Sorolla's lovely "Clotilde y Elena en las Rocas" provides a poignant contrast to Hagar's stark desperation.
We conclude Hagar's saga with Genesis 21:16. Her despair at watching her son die of hunger and thirst, having been cast out by his father, is jarring against the serene and happy mother and child in Philip Hermogenes Calderon's "Letter from Daddy."
Don't despair, Moms! God finally remembered he'd promised to use the kid to sire a few nations, so he had an angel show Hagar a well at the very last minute. Everybody lived! This time…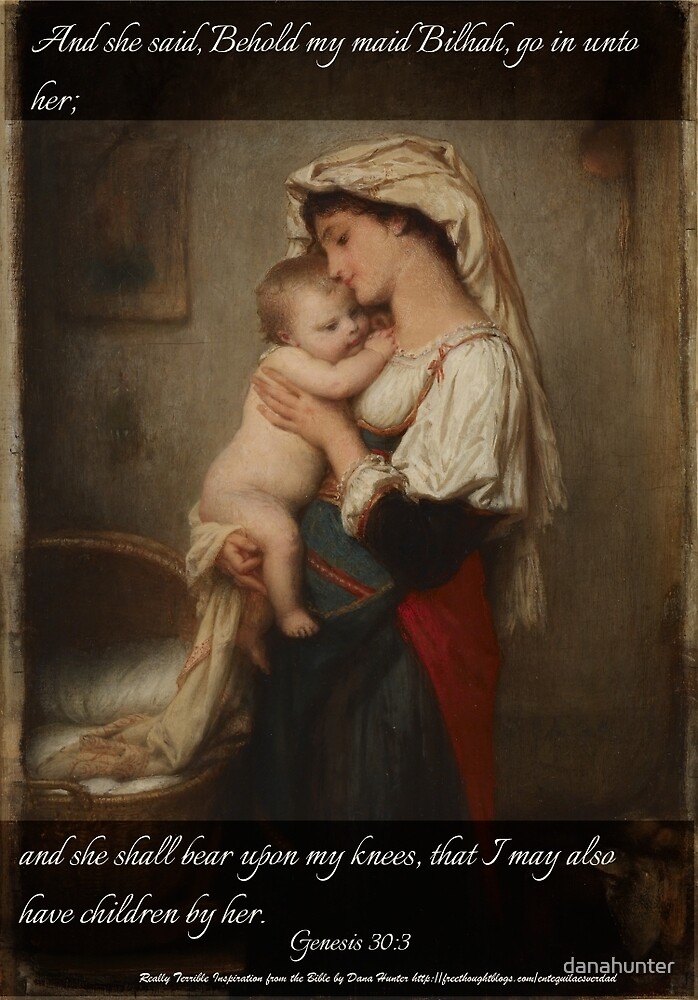 Our final Mother's Day inspiration from Genesis: Charles François Jalabert's "The Awakening," a sweetly maternal scene, contrasts with Rachel giving her hubby a sex slave to use as a surrogate mother. When you think about it, this is really terrible stuff!
So, uh, yeah. Happy Mother's Day! Just don't look to your Bible for sweet sentiments today.
And if you'd like any of the above images on convenient items to put on display or strategically leave where Christians can find them, you can find everything you'd like at Red Bubble.
Feel free to share the images around as long as my identifying info stays on – they're copyrighted, but I certainly don't mind non-commercial use with attribution. Have fun with them! Do tell me if you get any Christianist heads to explode.
Really Terrible Bible Stories vol. I: Genesis is now available at Amazon! Worldwide, even! To order outside the United States, visit your country's Amazon website and search for "Really Terrible Bible Stories" by Dana Hunter. Thanks for reading!