Last weekend was incredible – I'm just starting to recover! Let me tell you what I did…
On Friday night, I went to the first classroom session of my SCUBA class! The class took place in a teensy, tiny 9-chair classroom in the basement of the Minneapolis Scuba Center. The lessons were brief. They were very much a high level review of the textbook, so it's a good thing I actually did all of the assigned reading and in-book quizzes and tests.
After I got back from class at 10pm, the Hubby and I went walking through LynLake and Uptown. It was an excellent spring evening, and the crowds were out! The yuppies were dolled up and standing on the sidewalks, waiting to get into Chino Latino and Stella's. The slightly hipper yuppies were sitting outside at the Bryant Lake Bowl and Sauce. We took a ride on an almost-completely-built bike taxi – which was fun and a little scary – and we discovered a new comic store in Uptown, which always makes me happy. The shop was closed when we walked by, but I snapped a picture of the store and an awesome decal on the front window.
~~~~~
Bright and early on Saturday morning I rode the motorcycle out to Eagan for the last scuba classroom session, the final test and our first water lessons. I aced the final, which came with the dubious honor of having a minute trimmed off of my 10-minute tread (the water was 88°F – I would have rather stayed in than stood shivering on the pool deck!). After a 200-meter swim, we set up our equipment for the first time. We put the BCD on the tank, attached the regulator to all of the right places, turned on the air (important skill, that one) and lowered the whole mess into the water. Then we all hopped in and helped each other shrug into our gear.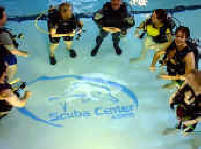 photo source
We mostly stayed in the shallow end on day 1. We followed a PADI skills list and learned how to communicate and stay with our dive buddy underwater, how to clear water from our masks and regulators, how to detach and re-attach our low-pressure inflator from the BCD, how to breathe from a free-flowing regulator, how to equalize our ears and masks, how to haul our buddy in a "tired swimmer" tank pull and body push, how to ease a leg cramp underwater, and all sorts of other skills.
~~~~~
Saturday evening, the Hubby and I went to a party at a friend's house. There were probably about 30 people who came and went on that night, and we got to meet some new people – always fun! We went home relatively early because I was exhausted from messing around in a pool for three hours 🙂
~~~~~
I had Sunday morning free, so I decided to head over to Valleyfair. This was the 2010 season's opening weekend for the amusement park, and I love me some roller coasters and thrill rides. See? I even know that there's a difference between roller coasters and thrill rides! The weather was perfect and was kind enough to give me a brilliant blue sky – perfect for pictures!
There are my two favorite photos from the park:
~~~~~
Cut to early afternoon: Back to Eagan for the last day of pool scuba lessons. The instructor made us put our equipment together and take it apart four times in a row. Damn, that's a lot of equipment! But I'm glad he made us do it – I should be able to remember how to set up for the Open Water dive class next month. At one point we were sitting at the bottom of the 12-foot pool for 45-minutes straight! We did a few buoyancy exercises, but that's a skill I know I'll need to work on. It's really hard to sit in one place in the water and not float to the surface or sink to the bottom! Swimming or moving at a certain depth – no problem. Hovering was a little harder. But in the end we all passed the pool portion of the scuba lessons!
~~~~~
Back in Minneapolis, later that afternoon, the Hubby and I went down to the LynLake block party. The shops between 31st and Lake Street were open, a few Art Cars were parked in the center of the block, and a stage was set up by the intersection of 31st and Lyndale.
This dude thought maybe one more cup would fit….some people's kids, I tell ya. I watched this garbage can for about three minutes, and people just kept tossing garbage in the general direction of the overflowing trash bin. Either that, or they'd shove something in from one direction, and three pieces would fall out another side. Seriously?
We walked a block up from the block party to Pizza Luce! Yummy gluten-free appetizers and pizza. Thank you Pizza Luce in South Minneapolis for finally adopting the full-time gluten-free menu!
~~~~~
Phew. And then I collapsed for a few hours!