Thanks (of a sort) to Dan J, who pointed me to an article on the question of whether it's okay for good Christian men to listen to the speeches of a popular woman evangelical. Its title? "Is It Wrong for Men to Listen to Female Speakers?" The answer?
We don't need to be picky on this. The Bible is clear that women shouldn't teach and have authority over men. In context, I think this means that women shouldn't be the authoritative teachers of the church-they shouldn't be elders. That is the way Rick Warrenis understanding it, and most of us understand it that way.

This doesn't mean you can't learn from a woman, or that she is incompetent and can't think. It means that there is a certain dynamic between maleness and femaleness that when a woman begins to assume an authoritative teaching role in your life the manhood of a man and the womanhood of a woman is compromised.

What I just said is unbelievably controversial. There are thousands, even millions of people that think this idea is absolutely obscene.
Personally, I find it all terribly…convenient.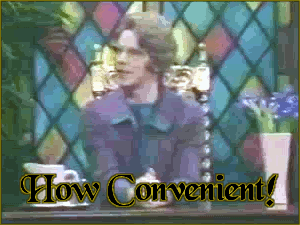 Yes, of course you can use women to carry your message, but that doesn't actually put them in any position to argue with you. It doesn't give them any right to challenge your unearned authority. That is, of course, what religion is all about for you. As long as you get to keep the privilege of making your whims and prejudices everyone else's business, you'll let a few women make ridiculous amounts of money talking about them too. You'll let them be persuasive and emotional on your behalf. But only as long as they agree with you.
Not that these few women get nothing out of the deal. The person who asked the question knows, even if the fellow answering it doesn't, that it isn't that simple to deny the authority of a persuasive speaker. That's why he asked. But even beyond that, that rare woman who is publicly both forceful and humble enough to be allowed that job becomes a very special snowflake indeed.
So, yes, dear boys. You are allowed to listen to women speakers. You just can't, you know, listen to them.
And girls, you may allow yourself to strive very hard to be the sort of woman who is occasionally allowed to be heard. Or, if you find the idea as obscenely regressive as author L. M. Montgomery did more than a hundred years ago, you can always see how well your church does without your help.